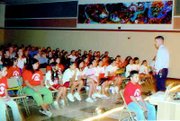 OUTLOOK - "In a way we died and in a way we resurrected," Outlook Elementary School Principal Robert Bowman told a packed house last night.
Bowman's remarks last night were part of a ceremony to re-dedicate the cafeteria the crowd was sitting in. The cafeteria was devastated by fire on Dec. 17, 2006. Formerly an old gym, the cafeteria was gutted-"died"-only to be brought back to life this week better than ever.
Gone are the echo of old wooden floors and basketball hoops dangling overhead. In their place is a modern cafeteria with tile flooring and an expanded kitchen area. There is even a new mural on one wall of the cafeteria.
The school's current gym floor suffered extensive water damage and had to be replaced. Last night's audience couldn't yet go into the gym because the new wood flooring was still curing.
The celebration also included a slideshow of the damage then and the progress now, as well as performances by Outlook students.
One of the songs performed in the "resurrected" cafeteria contained the words "we can make a difference."
Last night the students and community saw for themselves that a difference, a positive change-even in the midst of disaster-is indeed possible.