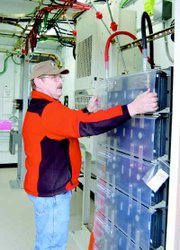 A new cellular tower has been installed in Sunnyside by U.S. Cellular, which should increase coverage for users in and around the city.
The company is developing the Sunnyside site and other sites as part of an effort to expand its Washington network.
"U.S. Cellular is committed to providing the best possible service for our customers, and the strategic location of cell sites ensures customer satisfaction with the network," said Kim Sebastian, director of sales for U.S. Cellular.
Over the course of several years, U.S. Cellular has worked on strengthening its network, much of which has been possible due to investment support provided by federal Universal Service Fund (USF) monies, which was created by Congress to make advanced telecommunications infrastructure and services available in rural areas.
The FCC is currently considering whether to impose a two-year cap on USF funding for wireless service. U.S. Cellular sees an attempt to slow investment in wireless infrastructure in rural areas as an attack on public safety.
U.S. Cellular believes that any cap that causes cancellation or a delay in construction projects will negatively impact those living in rural areas. The company is calling on Congress to be sure that the FCC protects the funding for wireless carriers serving rural America.