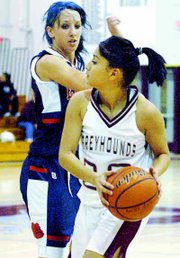 GRANDVIEW - The Grandview High School girls basketball team shocked Ellensburg with a 17-11 first quarter run. But it was the visiting Bulldogs who held the final upper hand as their all-everything player Kayla Standish poured in 27 points in a 64-48 win over Grandview.
Grandview Coach Paul Van Pelt attributed his team's fast start to getting the ball into the post, as well as connecting from the perimeter.
Plus, it helped that Kinzi Poteet and Anna George of Grandview were able to keep Standish in check early.
"We played what I thought was great defense on Standish," Van Pelt said. "She is going to get her points, but we made her work for everything she got." The Bulldog star was held to single digits in each of the first three quarters before breaking through for 11 in the final stanza.
After Grandview's first quarter run, momentum decidedly went in Ellensburg's favor as the Bulldogs pulled to within 27-26 at the half.
Ellensburg then ran away with the contest in the second half, outscoring Grandview 38-21 to return home with the CWAC South win.
Grandview had its opportunities but hurt its own cause with unforced turnovers, Van Pelt said. The miscues in turn led to easy buckets for Ellensburg.
With Standish in foul trouble, Ellensburg actually played back in a zone, according to Van Pelt, but Grandview didn't take advantage due to bad passes. "We couldn't see the open girls and held the ball too long."
Grandview (1-3, 3-3) was led by Poteet with 16 points and George with 12 points. Both players collected six rebounds and Poteet recorded three blocked shots.
The Lady Greyhounds have some time off before their next contest, a Jan. 4 date at Selah. Van Pelt said he's happy to have these past three games behind his team as they were against the top three teams in the league.
With the break ahead, the coach said his team will work on ballhandling skills.
"We'll work on limiting our turnovers, our guards have to see the whole floor, relax and not get so frustrated," he said. "In practice we will be doing more work with guards and pressure defense."
Ellensburg 11 15 19 19 - 64
Grandview 17 10 10 11 - 48
FG-Ellensburg 25/68, Grandview 19/45. 3-PT FG-Ellensburg 2/9, Grandview 5/14. FT-Ellensburg 12/21, Grandview 5/8. TO-Ellensburg 5, Grandview 11.
Ellensburg: Standish 27.
Grandview: K. Poteet 16, A. George 12, J. Lopez 9, M. Smasne 4, J. Reynolds 3, G. Gomez 3, M. Cruz 1.