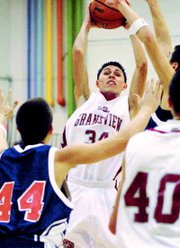 GRANDVIEW - The Grandview High School boys basketball team used a strong first half to jump out to a lead against the Ellensburg Bulldogs and then held on to cruise to a 51-38 win.
The victory evens Grandview's record in the Central Washington Athletic Conference at 2-2.
"We played really well defensively," Grandview Coach Scott Parrish said. "Our kids battled, I was pretty happy."
Playing without big man Nick Sears because of appendicitis, Grandview used junior Joseph Babcock to shut down Ellensburg's big threats, Matt Gray and Ethan Rosser.
"Joseph really stepped up and had a nice game inside," Parrish recalled.
The outcome of this was never really in doubt after the third quarter. Grandview jumped to a 15-6 lead and was up 29-12 at one point in the second quarter, before settling for a 29-14 halftime lead.
"Offensively we were moving the ball and getting good looks from the outside," Parrish said. "We were able to penetrate."
At halftime Parrish admitted thoughts of the East Valley game crept into his head. Against the Red Devils, Grandview took a big lead into halftime only to fall apart in the second half and lose the game.
Ellensburg was able to get Gray involved in the game in the third quarter and the Greyhounds suffered a setback offensively, only scoring six points in the quarter. Again, Grandview's Babcock stepped up for the 'Hounds.
"When they put Gray inside Joseph really notched up his intensity," Parrish said. "He really scrapped and did a good job for us on both ends of the floor."
The Bulldogs had cut Grandview's lead to 10 points after the third quarter but good shooting and timely free throws gave the Greyhounds a 16-14 advantage in the fourth.
C.J. Lopez led Grandview with 13 points. He was followed by Rogie Fajardo with 12 points and nine rebounds.
Ellensburg's Rosser was held to nine points and Gray had eight points.
"I was real happy with the kids," Parrish added. "This is a big improvement over the last time we played on our home court."
The much taller Ellensburg squad out rebounded the Greyhounds 42 to 40 but Parrish said he was happy his team was able to keep is to close on the boards.
Grandview (2-2, 3-2) will now have more than two weeks off before traveling to Selah to play the Vikings Friday, Jan. 4, at 7:30 p.m.
Ellensburg 6 8 10 14 -38
Grandview 15 14 6 16 -51
FG-Ellensburg 16/48, Grandview 17/60. 3-PT FG-Ellensburg 2/20 (Sterkel, Rosser), Grandview 4/14 (Lopez, Fajardo, Concienne, Rodriguez). FT-Ellensburg 4/9, Grandview 13/17. RBD.-Ellensburg 42, Grandview 40 (Fajardo 9). TO-Ellensburg 16, Grandview 8.
Ellensburg-K. Hinckle 6, B. Luce 0, E. Sterkel 3, M. Pfeifer 4, J. Ulmer 4, E. Rosser 9, J. Rossow 2, J. Jenkins 0, M. Gray 8, B. Dekoning 2, G. Harris 0.
Grandview-C. Lopez 13, R. Fajardo 12, S. Jimenez 0, C. Hernandez 2, M. Concienne 6, E. Rodriguez 5, J. Bertsch 0, J. Magana 0, M. Guillen 3, C. Garza 0, J. Babcock 10, J Massey 0.