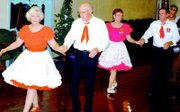 MABTON - Hitch six. Broken box. Vine apart. Basketball turn. Start four.
The cues and calls are loud and clear, but the message may be confusing to newcomers.
A quarterback barking out plays? Code words for a secret mission?
Try round dancing, a version of square dancing that's employed by the Lower Valley Square Dancers club that meets twice a month.
Club President Frankie Norwood thinks the club got started sometime in the 1970s. It holds its dances in a hall that it owns out on Belma Road, near Mabton.
"Many in the community know the building as the Belma Grange Hall, and at one time it was used as a school house," Norwood said. She noted that club members have upgraded the hall to include an extended dining area and upgraded the kitchen and bathrooms. The hall was painted this past summer by volunteers.
Norwood said a skunk barrier was added, too, to ward off the animals and their trademark scent. "The skunks seem to enjoy living under the building, but at times they are offended by something, and do what comes naturally to skunks," she explained. "We just want them to live and do their business somewhere else."
But the square dancers are all ultimately about what happens inside the hall, and that would be square dancing twice a month from September through May.
The club practices what's called mainstream square dancing and phase two round dancing. Norwood said advanced levels are available for those wanting to challenge themselves and expand their dancing activities.
In a nutshell, round dancing is a "sister to square dancing as well as contra dancing," Norwood noted. "It's more closely related to ballroom dancing."
She said square dancing, on the other hand, involves eight people dancing in, what else, a square.
"It's just fun," club member Jeannie Grimes said in between dances. "It's a good environment and you get to meet good people."
Barbara McMullen said she found square dancing when she was "looking for something to do." Though the myriad of calls and cues may seem confusing, McMullen said square dancing is easy. "If you can walk, you can square dance!" she laughed.
Norwood said square dancing's appeal includes the fact it is "family friendly" and no alcoholic beverages are served or consumed on the property.
In addition, Norwood said square dancing offers an aerobic workout "in doses that are easily taken and enjoyed."
That's not to say anyone could just walk up and start square dancing, as the club offers classes and lessons to help new members.
Norwood emphasized that square dancing requires traditional dress in keeping with its pioneer history.
Traditional square dance attire for women includes a full gathered skirt over a very full, puffy slip, and a pair of pantaloons. Norwood said prairie skirts are also acceptable.
Shoes are traditionally soft-soled leather, with good arch support.