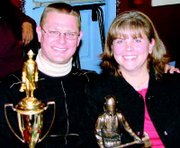 The Sunnyside Fire Department has recognized several of its firefighters for their service this past year. The awards were presented at El Valle Restaurant in Sunnyside.
Bill Harris, for his continued involvement and willingness to take the initiative on community events, was named the Career Firefighter of the Year because of his leadership skills shown in his role as a captain at the fire department.
"He always is willing to help with the floats for parades and recently recognized a local fifth grader for heroism," said Tony Castillo, a volunteer for the Sunnyside Fire Department and Yakima County Fire District #5 captain.
The Volunteer Firefighter of the Year award recipient was Chad Werkhoven, who has served as a volunteer for several years. Castillo said Werkhoven is a reliable volunteer and continues to serve the community with excellence.
"He is always willing to help out with projects and is dependable when volunteers are called upon," said Castillo.
Paul Groenwold was recognized as this year's recipient of the Cadet Captain award.
"He began his career with the department as an eager cadet, willing to learn everything associated with firefighting," Castillo said, stating Groenwold has since graduated with a degree in fire science from college and continues to volunteer with the Sunnyside Fire Department. He hopes to become a career firefighter.
The three top responders included Castillo, Ed Laverman and Werkhoven. Castillo responded to 39 of the 62 alarm calls in 2007, Laverman responded to 22 and Werkhoven responded to 16 calls.
Three volunteers were recognized for 28 years of perfect training attendance. They included Laverman, Bill Timmermans and Jerry Monroe.
Also recognized at the awards banquet were two of the department's veteran firefighters. Both Mark Wyatt and Ron Price retired from the Sunnyside Fire Department with more than 30 years of service behind them.
The outgoing officers for the Sunnyside Volunteer Firefighters Association, which included President Dave Timmermans, Vice President Ron Price, Secretary Alan Van Beek and Treasurer Jerry Monroe, received recognition before the new officers were elected.
The new officers include President Tony Castillo, Vice President Woody Clough, Secretary Dave Timmermans and Treasurer Jerry Monroe.
Castillo said Monroe retired from Yakima County Fire District #5 with more than 30 years of service, but will remain with the Sunnyside Fire Department's volunteer services.