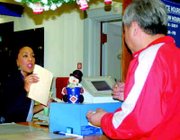 Sunnyside residents recently may have noticed a different face behind the counter at the Sunnyside Post Office.
Beginning in April 2007, Tori Bell began commuting from her home in Yakima to work the night shift at the Sunnyside Post Office.
"I enjoy the drive. It's rather beautiful," she stated, saying that she had never been to Sunnyside before beginning her work at the post office.
When long-time postal employee Linda Johnson retired, the Sunnyside post office was in need of help during the days. They asked Bell if she would be interested in filling in at the counter when the post office is busy. "That was about a month ago," she noted.
"I love customers," Bell said, stating the idea appealed to her.
She continues to work her night shift, but has found the time she spends at the counter suits her well.
Bell was taking classes at Yakima Valley Community College to study nursing prior to being notified of the night shift opening at the Sunnyside Post Office.
Now, she finds she feels right at home, serving the various community members she sees as a postal worker.
Bell said, "This is a great community and I really enjoy the people."