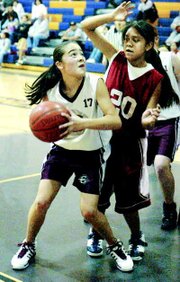 MABTON - Ten teams participated in the two-day Mabton Lion's Club Holiday Hoops Tournament this past weekend.
The fourth to sixth grade boys and girls tournament was held to help the Lion's Club in Mabton raise money for the Miss Mabton float.
There were just two divisions, one for boys and one for girls. The plan was to have separate age divisions for the fourth through the sixth grade teams.
The Wapato boys claimed the title on Saturday. Wapato beat Sunnyside 43-29. On the girls side, it was Grandview beating Toppenish 42-35 in a come-from-behind win to claim first place.
Sunnyside Christian finished third in the boys division and Mabton took third in the girls division.
This was the first tournament put on by the Mabton Lion's Club but it is expected there will be more of them.
"This is the first tournament but we want to make it an annual one," tournament organizer David Rodriguez said. "Things really went good. The coaches were interested in playing here again."
Rodriguez said he envisions hosting two to three tournaments a year and said he is shooting for spring break of 2008 for the next one.
The top three placers in the boys and girls divisions received trophies. Rodriguez said through the tournament the Lion's Club was able to raise approximately $700 to help with costs of the Miss Mabton float.