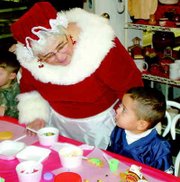 About four years ago, Dairy Fair Manager Tami Silva looked at Karen Friend and said, "You'd make a perfect Mrs. Claus." After all, Friend is gifted with naturally gorgeous grey hair, and she even wears glasses. All she needed was a Mrs. Claus outfit.
Silva went ahead and rented Friend the proper attire and, the rest, as they say is history.
"The idea just came like a light bulb in her head and it's been bright ever since," said Friend.
So launched four years of annually trekking to Dairy Fair to help wee ones decorate sugar cookies the day of Sunnyside's Lighted Farm Implement Parade.
"Out of everything I do, it's probably the best part of that day, other than the parade," said Friend. Her favorite part, she says, "Is just seeing the kids, their eyes (light up), their creativity when they get to make the cookies."
Friend said it's even more fun when her grandchildren decorate cookies at Dairy Fair because they wonder how on earth Oma is Mrs. Claus.
Each year, Friend said, the area to decorate cookies just gets bigger and bigger.
"The first year it was one or two tables. The next year, it was four. Now we're clear into the other part of the room with three of the six-foot tables in there. It's really grown," Friend said.
Friend, who is married to her childhood sweetheart, John, lives in Outlook. She said she's always enjoyed baking with her kids and grandkids, and other family too. Granddaughter Alyssa even has her own apron for when she visits Oma and bakes, especially oliebollen, or Dutch doughnuts. Friend said Alyssa's favorite part is rolling it in sugar.
When kids come to Dairy Fair, she said they can decorate several cookies. "I've seen some decorate cookies for their whole family," she said. And, of course, Friend mingles and even occasionally asks what the kids want for Christmas, though Santa is nearby.
So far, the early December stint is Friend's only Mrs. Claus gig, but she said she'd consider taking on more.
Once she's done helping the kids decorate the cookies, the suit comes off and she's back to being Karen Friend again, and she heads over to start registering float entries for the parade.
"Because then I have to be warm. You can't put on warm clothes and be Mrs. Claus at the same time."