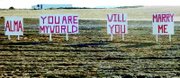 Monday morning, James Esqueda made a grand proposal to his girlfriend, Alma Miranda.
Wanting to do something unique, Esqueda painted several large signs with a marriage proposal, and placed them directly across the street from the apartments on South Hill Road that Miranda manages.
"I love her. She is a great influence on me and I wanted to do something special," Esqueda explained.
The signs are clearly visible from both the apartments and the road. Several people called Miranda to alert her that she needed to look outside.
Esqueda said she called him to informally accept his proposal, but the formal answer was provided at a family Christmas Eve gathering at a dinner on Monday night.
He said he is a single father of three boys and she is a single mother of four children and he felt the union of the two families would "...make my world complete."
The idea of painting the signs wasn't the first time Esqueda decided to make such a gesture. He said he also decorated a very large cardboard sign for Miranda on her birthday.
"I just want everybody to know I love her with all my heart," stated Esqueda, stating Miranda means everything to him.
As to when the couple will "tie the knot," plans have yet to be made. But, Esqueda guarantees he will certainly be the happiest man around when he marries Miranda.