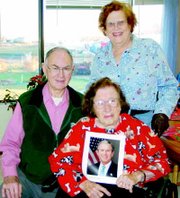 GRANDVIEW - After living most of her 99 years in Carroll County, Iowa, Buela Kirk sometimes has a difficult time believing she now resides in Grandview.
Beula is the mother of Verle, her only son, and moved to the Lower Valley to be closer to him in 1998.
She spent most of her life farming corn, soy beans and cattle during her years in Iowa.
"My husband was a farmer," she noted, saying that she took over the farm when he died.
"They were married 30 years," said Verle.
Beula first moved to a home Verle and his wife, Elaine, set up for her in Sunnyside. There, Elaine ensured new drapes and all the necessities for a comfortable home were put in place.
She made her home there for a number of years before moving to Grandview, where she now lives with the Tayons and other residents in a home for older adults.
Beula recently received a letter and a birthday card accompanied by a photo of President George W. Bush. She beams at the letter and card, saying she was impressed when she opened it.
"I didn't think it was real," she noted. "But, it's important to me."
The letter and card are to congratulate Beula for living 99 years. It talks about the importance of the older generation in our nation.
When asked about being 99-years-old she said, "Yea! We're long lived people, my family."
Beula will celebrate her birthday on Friday, Jan. 4, 2008. She said she hopes to receive a letter from President Bush each year for at least another five years.
More like this story