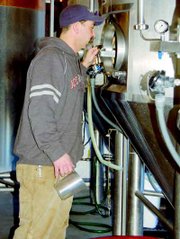 Will the 2007 hop shortage force beer brewers to tinker with their recipes? If you ask Whitstran Brewing Co. owner Larry Barbus, messing with perfection could be a recipe for disaster.
"When you have successful recognition, you don't want to change it," said Barbus. "You just pay the price and get all you can right now."
According to Ann George, administrator for the Washington Hop Commission, back in the mid-1990's many growers switched their hops to high-yielding varieties, which created an over-supply situation that drove prices down.
Hops store very well for a significant length of time when processed, she said. For many years, hop growers found themselves in a situation where merchants would not sign long term contracts. Because long term contracts were lacking, banks were not providing investment capital to farmers to plant new acreage.
"Once we finally got to the point where surplus was all gone, acreage had not started to increase," she explained, including that this isn't just a United States situation, but worldwide.
"All of the sudden, we ran out of hops...you can't turn that around overnight," George said.
"Last year was nip and tuck," she added. "We almost ran into this situation last year (in 2006)." This year, she said, "There was nothing left to go back on, so we were just short."
George said that with strong long term contracts, there should be several thousand new acres of hops planted in the U.S. and worldwide by 2008 harvest time.
In the meantime, brewers have been paying a pretty hefty price for some hops.
Terry Butler, Head Brewer for Snipes Mountain Brewery in Sunnyside, said that he paid triple this year than what he's paid in the past just to get his hops. But when it came to getting the amount he needed from local growers, he said, "They take pretty good care of me since I'm from around here."
He said the highest price he paid this year was $15 per pound for a high bittering unit hop and that he believes it may even cost more next year.
Barbus said there are aroma hops, bittering hops and finishing hops. He said there's a little bit of latitude in changing bittering hops, but if finishing hops are altered, it could create an unrecognizable beer that's not desirable to a regular customer.
"Consistency has to be maintained," Barbus said. When it came to his finishing hops, he said, "You have to bite the bullet and pay the price."
When it came to planning, Barbus said that as soon as he heard there would be a shortage, he purchased a year's supply of needed hops to brew his batches. "Hopefully, I'll be OK," he said. "I have specific volumes of quantities that I use in beer for (particular flavors). A great chef doesn't change his recipe."
Butler, at Snipes Mountain Brewery, said he should be OK this year. But, he said, "Next year I think there's going to be a shortage on aroma hops."
While he's not feeling a shortage now, Butler said he's already backing off "just a little bit," a half-pound here and a half-pound there in anticipation that he might run into a shortage towards the end of the year.
Butler said his solution might just be to sell lighter beers in summer and higher hopped beers in winter.