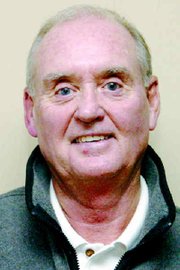 Bill Gant of Sunnyside was recently appointed by Gov. Christine Gregoire to serve a third five-year term on the state's Board of Osteopathic Medicine and Surgery.
He is the only non-medical practitioner on the eight-member board which covers the entire state and reports to the Washington State Department of Health.
Gant, a Sunnyside city councilman, indicated this will likely be his last term on the board, which reviews complaints filed against osteopathic practitioners. Known as a D.O., doctors of osteopathic medicine are often involved in family medicine practice. In fact, Gant says the large number of D.O. physicians practicing in the Lower Valley was one of the reasons he sought participation on the board.
"Shortly after I retired from Sunnyside High School I started looking around for things to do," he recalled. Gant noted that his own personal physician at the time was Dr. Clevenger, who was a D.O. "It piqued my interest to serve on the board," he says.
Gant is vice chair of the board and, as the lone non-physician, has little medical background.
And that's by design.
"The state actually prefers to have a person without a medical background serve on the board," Gant noted.
When a complaint is received and determined to require further research, one of the board members will work with the attorney general's office to carry out the investigation.
Since Gant does not have a medical background he said he is usually assigned cases in which a D.O. is alleged to have had improper physical contact with a patient. "I get a lot of the cases where the doctor's being promiscuous with patients," Gant said.
As a board member, Gant's responsibilities-along with the seven other representatives-include legislative input.
Looking ahead, two areas Gant expressed concerned about is the need for legislation in overseeing big box stores that run their own walk-in clinics.
"I'm not totally opposed to them," he said, while noting a concern that when a patient walks into a store's clinic and receives a prescription they may be directed to purchase the medicine at the store's own pharmacy.
Gant is also concerned about failed state legislation proposed last year that would take away some of the regulatory authority of medical boards, like the one Gant serves on, and redirect it to the Department of Health. "That's a concern to us," he said. "We're opposed to it."
That opposition stems from the way in which Gant sees the board as a go-between for physicians and patients.
As the lone non-medical practitioner on the Osteopathic Board, Gant views his role as one of protecting the public and holding out for its best interests. "I really enjoy it," he says. "I'm really lucky to serve with a good group on the board.