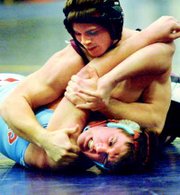 RICHLAND - With team members out due to illness or vacation, the Grandview High School wrestling team competed at the Hanford Winter Cup last Friday with nine grapplers.
Five of the nine Greyhounds were able to place at the annual event, earning the team eighth place honors.
"I was real pleased with the team. The five who placed all wrestled real well for us...especially Santos (Guillen) and Eddie (Galindo)," said Grandview Coach Jeff Sevigny.
He said Galindo dropped down a weight class, wrestling at 135 lbs. instead of 140 lbs.
Galindo earned third place honors for the 'Hounds at the Winter Cup, with his final dual against Alex Stevens of Reardon. Galindo won the bout by by a 16-3 decision and went 3-1 for the day.
"He and Santos are really stepping up for us," said Sevigny.
Earning third place honors with a 3-1 record on the day, Guillen (103 lbs.) earned a victory in his final match against Reardon's Jamie Harmon by a pin in 2:36.
Grandview's Greg Gonzalez (160 lbs.) was another third place finisher at the event. He earned a 3-1 record for the day, winning his final bout against Prosser's Renee Moreno by a pin in two minutes.
Also pinning his opponent in his final dual was Grandview's Keagan Christensen (189 lbs.). He competed against Prosser's Cole Groom and the pin took place in 1:58.
Edward Acosta (285 lbs.) earned fifth place with his final dual against Steffon Hynes of Prosser. Acosta lost the bout by fall in 12 seconds and went 2-2 for the day.
Sevigny said he always appreciates tournament competition because it provides an opportunity for the grapplers to gain more experience on the mat. It helps the team in future duals and he feels tournaments work to help with improving his team.
The Grandview Greyhounds will face last year's CWAC league co-champion, Selah, this coming Thursday at home. Sevigny said he is looking forward to the challenge the dual will provide for the team.