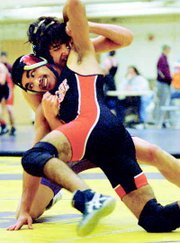 RICHLAND - The 3A Sunnyside High School wrestling team defended last year's title at the Hanford Winter Cup by taking the event team championship again this past Friday.
The Grizzlies scored 211 points to take top team honors, narrowly outpointing defending State B champion Reardon, which collected 206 points. Richland, Prosser and Hanford rounded out the top five teams in the 11-school invite.
Reardon actually held a point-and-a-half lead over the Grizzlies heading into semi-final competition. "They're tough," Sunnyside Coach George Paulus said of the Reardon wrestlers, some of whom played on the school's recent State championship football team.
Reardon actually had more depth than the Grizzlies, but Sunnyside was able to keep the upper hand because it had seven wrestlers advance to their respective weight-class championship bouts, with five winning titles. Reardon had five advance to the finals, with three taking titles.
Sunnyside's Christian Reyes won the 103-lb. title with a 5-3 decision in the championship bout over Richland's Kyle Mars. "Reyes had do to all the right stuff. He scored a takedown toward the end of the match," Paulus observed.
Steven Romero took first-place honors in the 112-lb. class for the Grizzlies by scoring a 23-8 technical fall over Blaze Larson of Southridge in the championship match. The other two Romero brothers also scored individual titles, as Isaac (119 lbs.) and Josh (125 lbs.) prevailed in their respective weight classes.
In what Paulus called one of the matches "instrumental" to Sunnyside's team title, Josh Romero outpointed Reardon's Chris Goodson 6-4 in the final to take the 125-lb. title. The victory over a Reardon wrestler was a four-point swing in Sunnyside's favor for team scoring.
Another four-point swing for the Grizzlies happened when Sunnyside's J.T. Gonzalez won the 135-lb. finale by edging Reardon's Tim Eggleson, 10-9.
Gonzalez actually led 9-4 heading into the third and final round before Eggleson nearly pulled the upset against the Sunnyside wrestler, who is 20-0 on the season. Paulus said the Reardon wrestler got physical and pushed Gonzalez. "J.T. lost his focus, he lost his cool," the coach noted. "He was cruising then all of a sudden because of a temper flare-up he got a little careless." Even so, Paulus said it was good for Gonzalez to have that kind of "learning experience" in preparation for post-season competition later this season.
Taking second-place honors for Sunnyside were Danny Alvarez (152 lbs.) and Jesus Mendoza (171 lbs.). Alvarez outpointed fifth-ranked 3A wrestler Tamrich Perez of Southridge in the semi-finals before losing in the championship bout.
Also scoring high for the Grizzlies was Nick Martinez, who was third in the 130-lb. weight class. Martinez captured the honor by defeating Colton Watt of Riverview in the consolation final.
Rounding out Grizzly scoring were Baltazar Avalos (140 lbs.) with a fifth-place finish and Ricardo Mendoza (160 lbs.), who brought home eighth-place honors in his very first varsity competition.
Sunnyside also had junior varsity wrestlers who placed in the tourney, but their results could not be added to the varsity team score. Isaac Meza (112 lbs.), Rigo Valdez (119 lbs.) and Leroy Rodelo (135 lbs.) were third in their respective weight classes for Sunnyside. Emmanuel Tejeda (125 lbs.) finished in fifth place for the Grizzlies.
"It pays to get the junior varsity kids experience. They'll be varsity next year," said Paulus. Success for the JV wrestlers at the varsity level, even though their points didn't count this past weekend, is also a positive as points scored in the postseason by JV qualifiers do count toward team scores.
The Grizzlies won't have long to savor their second consecutive team title at Hanford, as they return to league competition this Thursday at Southridge.
&nbsp