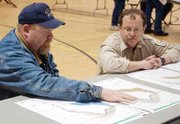 Four meetings, six alternatives. The U.S. Fish and Wildlife Service is crunching those numbers to come up with a plan for a national refuge at the Hanford Reservation.
One of the four meetings or open houses to gather comment on the six alternatives was held last night in the Sunnyside Community Center.
"We believe open houses provide the best option for the public to fully understand what is in the plans," said Supervisory Refuge Manager Mike Ritter. "At the same time, we get a better understanding of the public's concerns and needs through direct interactions, rather than listening to testimony."
The six alternatives for the wildlife refuge range from allowing more public access to focusing on protecting natural resources.
Whichever option is chosen will cover a nature preserve measuring 195,000 acres-with much of that land dedicated solely to wildlife-in what is known as the Hanford Reach National Monument.
Fish and Wildlife's preferred choice, known as Alternative E, will set aside 67,000 acres for hunting and just over 10,000 acres for fishing.
In addition, two photography sites, up to 15 new interpretative sites and 15 new interpretative trails would be created.
Alternative E also calls for one developed campground in the Vernita area and one proposed campground at the Ringold Fish Hatchery. Three boat launches would be approved, as well. The alternative would also create up to 100 miles of hiking trails on the east half of the sand dunes in the Columbia River corridor area.
Randy Ridenour of Grandview was one of those on hand last night to comment on the preferred alternative. A backcountry horse riding enthusiast, Ridenour was concerned about Alternative E's proposal that calls for limiting horseback riding to existing roads and trails.
The preferred plan would all but prohibit cross country horseback riding at the refuge. Currently, cross-country riding is allowed in some areas of the Hanford Reach National Monument.
"Public access is what we're concerned about," said Ridenour, who expressed his comments to Dan Haas, a natural reserve planner with Fish and Wildlife.
Haas admitted that the preferred refuge plan would "close some uses and open up other uses."
Sunnyside resident Les Amundson said he would prefer that the entire refuge area be left in its natural state, pointing to the rare shrub steppe areas of the site.
Whether it is favoring horseback riding, or leaving things as they are, Fish and Wildlife officials will take the comments received during the series of open houses and include them in final documentation by the end of this year.
Haas said the process is mandated by the federal government, which requires Fish and Wildlife to have comprehensive plans submitted on all 542 national preserves by 2012.