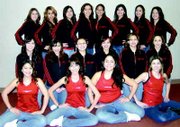 After practicing and working on their routines for more than nine months, the Grizzliettes are beginning to see the payoffs.
The Sunnyside High School dance team recently qualified in the hip-hop and pom categories for district competition while at the regional competition in Pasco.
The team has been practicing since May 2006. First, they were practicing for the camp they attended in Portland in July. After camp, the team's 5:30 a.m. weekday and 8 a.m. Saturday practices were aimed at the goal of placing higher than last year's eighth place finish at the State competition held in West Valley.
Currently, "We're excited to go to districts," said Alyssa Longoria, one of the team's two captains.
She and Maritza Mendoza are eager for the district competition to be held in West Valley on March 3.
"It's hard work," stated Mendoza.
The pair said reaching their goals has taken much dedication on behalf of the team members. "It's a year round sport," said Longoria.
"The team becomes like a second family and hours of devotion are put into our efforts," commented Mendoza.
District competition will be in West Valley on March 3. If the team qualifies for State competition, they will be competing on March 23-24 in West Valley.