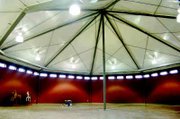 BICKLETON - The dream of the Alder Creek Pioneer Association is close to being fulfilled as the final touches to the Bickleton Carousel Museum are being made.
Work started with a ground breaking ceremony for the museum last June and the main construction on the building was finished in November. Now, members of the Alder Creek Pioneer Association, Friends of the Carousel and the Bickleton Carousel Committee are doing the interior work themselves and hope to have the facility open to the public in May.
The museum was spurred by a need to store the horses and carriages of the Armitage Herschell/Herschell-Spillman Carousel. According to Sandra Powers, co-chairperson of the Bickleton Carousel Committee, the Carousel was built sometime between 1899 and 1901. What is known is the carousel opened at an amusement park in Portland in May of 1905.
It was brought to Bickleton in 1929 and used at the Pioneer Picnic and Rodeo, where it continues to operate to this day.
The new museum will house the horses and carriages for all but three days of the year, when the pieces are reassembled in Cleveland Park for the picnic and rodeo. This year the carousel will operate June 8-10 during the 97th annual Bickleton Picnic and Rodeo.
"We've always wanted a place to put the horses," Powers said. "The carousel is one of only 10 in the United States. That makes it very special."
The Alder Creek Pioneer Association received a $450,000 grant from the Washington State Department of Commerce, Trade and Economic Development, which enabled the group to start construction on the museum.
Powers said that wouldn't have been possible without the help of Sen. Jim Honeyford, Reps. Bruce Chandler and Dan Newhouse, and Miland Walling, a member of Alder Creek Pioneer Association.
Powers said a goal of the association is to find another platform to set up the carousel in the museum so it can be used year around. Also in the works is a gift shop to go with the displays depicting the history of the Alder Creek Pioneer Association and East Klickitat County.