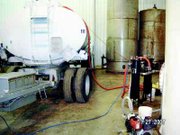 The first 6,000 gallons of canola oil rolled out of Sunnyside last Tuesday on its way to Imperium Renewables' Seattle biodiesel facility, where the oil will be turned into biodiesel.
Imperium Renewables, one of the nation's largest biodiesel producers, struck a deal with Natural Selection Farms of Sunnyside. The deal calls for Natural Selection Farms to provide up to one million gallons of canola oil in 2007.
The deal represents the largest purchase agreement for Washington state-produced canola.
"This partnership demonstrates the incredible opportunity for our state's agricultural industry to benefit from the increasing demand for biodiesel within the state as well as nationally," John Plaza, Imperium's founder and president, said in a company press release. "We've always said that we'd be the state's biggest customer for Washington state-produced canola oil and today we are. This is just the beginning of what we hope will further establish a new market for Washington state farmers, as well as Washington state consumers of the fuel."
Biodiesel is a clean burning alternative fuel made from oils derived from farm crops and can be used in any conventional diesel engine. It can be used in pure form (100 percent biodiesel) or in a blended form, where it replaces a percentage of regular diesel. A U.S. Department of Energy study determined that biodiesel emits about 78 percent less carbon dioxide than petroleum diesel.
"Diversifying our crop base to include canola makes both great agricultural and business sense," Ted Durfey, owner of Natural Selection Farms, said. "We're proud to be doing our part to clean up the air, increase jobs and revenue in our state, and reduce our nation's dependency on foreign oil. I hope others will realize the benefits of adding canola to their crop mix."
Imperium Renewables and Natural Selection Farms have been collaborating for 18 months to develop their relationship between the agriculture and biodiesel industries in Washington state. According to the press release this deal will provide a significant economic incentive to increase the acreage of Washington state canola, provide new revenue opportunities and cost-saving potential for regional farmers and dairies, and provide Imperium Renewables with a reliable, premium local feedstock.
Plaza was in Washington D.C. yesterday testifying at the Transportation Bio-fuels conference, hosted by the senate committee on energy and natural resources.
"Today in the United States Senate we are talking about the future of our economy and the opportunities with bio-fuels," Senator Maria Cantwell said. "John Plaza is here to show that in Washington state we have already made history with biofuels by establishing one of the largest bio-fuel refineries in the country. I'm excited that on the day that John is going to be testifying he brings news that part of the biodiesel facility in Grays Harbor will also be producing product using Washington crops."
"It is seed that is grown, crushed and produced in Sunnyside and the Eastern Washington area and then transported by truck over to Seattle Biodiesel and Imperium Grays Harbor for production and use within the state," Plaza said in Washington D.C.
"This is a long time project we've been working on with Ted Durfey and Natural Selection Farms. We're extremely excited and this is the beginning of what we hope will bring a larger piece to the agriculture community in Eastern Washington to help bridge the two sides of the state to become leaders in renewable energy."
Cantwell said she hopes more farmers will turn to growing canola.
"Washington state used to grow quite a bit of canola in the past and I think we can return to producing canola that would help in alternative fuels," she added.
Plaza said his company is sourcing vegetable oil from around the world. This portion of oil from Sunnyside is just a portion of what the firm will need, so he said there is a lot of potential for the market. He said he is looking at canola from Canada and soy from the midwest.
According to Plaza, the United States uses 63 billion gallons of diesel a year. Six billion gallons are used on the west coast and one billion gallons are used in Washington state. He is looking at the entire west coast as his market. Imperium Renewables is the only bio-diesel producer west of the Rockies and the largest in the United States.
He said as of right now, bio-diesel is approximately 20¢ more per gallon than regular diesel but for 10 out of the 12 months in 2006, bio-diesel was cheaper than regular diesel.
Plaza said his company is paying a slight premium on the canola oil from Natural Selection Farms but these costs are offset by reduced transportation costs.
"This is a million gallons and it's a multi-million dollar deal," he said.
Washington state pays $25 million a year to Canada for canola and Plaza said Durfey will be able to help offset that.
Plaza said he is only working with Durfey at this point but is open to other partners.
Durfey said he planted approximately 100 acres of canola last year and is still growing the crop to help produce the 1,000,000 gallons of oil. He said he is also working with M & E Feed and Seed in Prosser to buy canola to crush.