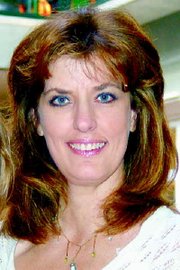 By day, she's an analytical thinker. By night, former Sunnyside resident Jacqueline Dasso Haddad delves into her creative thoughts, working to develop a book that's been in the works for 15 years.
According to Haddad, the book, set in the 1970's, is about a young American woman who falls in love with a Lebanese young man that's living stateside. Eventually, he must go back to his country because civil war has broken out there.
Haddad, now a resident of Issaquah and employee of Microsoft, said since the time she first came up with the idea, there's been heightened awareness about the Middle East.
Haddad, who speaks Arabic, has actually traveled to Beirut. "I had an exceptional experience there," she said. "Overall, the community was receptive of me traveling there. They would invite me to lunch or dinner to practice their English with me."
She found the Beirut experience moving. "People were hungry to move (on) from the civil war. They wanted to start living their lives and not be known for nor consumed with war."
When Haddad sits down to write in her free time in the evenings or on the weekends, she weaves her personal experiences into her character, who she says "reflects pieces of me. But she's not 100 percent me."
She's eager to bridge culture and religion through her book in a way that reflects the role both subjects play.
The book, she says, is part love story and part historical significance. "I do want to keep some facts intact and make (the book) historically relevant."
Haddad wasn't born with the feeling of comfort and ease when it comes to writing. Her professional field is project management. In her job, she's analytical and detailed oriented. "I've definitely got that down to a T," she laughs.
Two major influences got her over the initial trepidation of writing with the goal of being published. One was becoming a mother five years ago.
"After the birth of my daughter I started to explore different layers of myself. Not just the analytical person who gets paid to do a job, but rather a person who can augment my child's life through expressing myself in different ways. Writing is just one of the means," she says.
More progress was made when Haddad published nine papers on a popular project management website, www.gantthead.com.
"I initially wondered, 'Would anyone care about what I have to say?'
"Once I started to get positive and negative feedback, I had to adjust my reaction. I was moved when people told me my writing influenced them in their careers. In fact, I was deeply moved. I also had to get strong when people criticized what I was saying...they had a right to differ with my point of view."
Evidently, her point of view is popular. Of the subjective point of view papers she's written, many have been translated into other languages and added as blogs for best practices. "I am very proud of where my work is going in the field, as to watch it be consumed around the world."
Haddad is the daughter of the late Dr. Jack E. Dasso and Delores Dasso of Sunnyside. Dr. Dasso, a chiropractor, spent most of his 40 years of work experience practicing in Sunnyside. In his honor, she incorporates her maiden name for writing projects she intends to publish.
"Every day I go by Jacque Haddad. I conscientiously included my father's surname (to publish under) as a way of tipping my hat to him and saying, 'Although you've been gone for several years...you are not forgotten.' My only regret," she adds, "Is that as an adult I never got the chance to tell him, 'As a parent, you knocked it out of the ballpark. I couldn't have asked for a better role model than you.'"
Perhaps it's her father's influence that contributes to her determination to finish the book. She said she has every intention of completing her writing project and being able to look back and say, "I've done it."
.