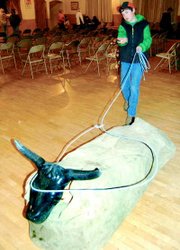 The Waneta Grange was the site last Saturday for the annual 4-H Fun Fair.
The fair featured games, food and activities all put on by Lower Valley 4-H youth.
An auction was also held, which raised funds to help 4-H students participate in the Yakima Valley Fair and Rodeo. Funds also were used to offset expenses for 4-H leaders and participating clubs.