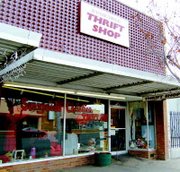 The Sunnyside Christian Thrift Shop announced that it reached $1 million in total sales during this past Christmas shopping season.
The thrift store opened in April 1996 as a way to financially help Sunnyside Christian School, a non-denominational K-12 school. To date, the store has donated nearly $500,000 to reduce tuition costs.
Supporters say the million-dollar landmark is especially impressive over that 10-year span considering the average price per thrift shop item is about one dollar.
"We as a board would like to thank all those who in any way helped make the shop a success over the last 10 years," said Hester Groeneweg, president of the thrift store board.
The shop has evolved from a mom-and-pop style outfit into a professional non-profit operation. School society volunteers form the backbone of the shop's workforce, which also includes a paid manager and four part-time employees.
All of the store's merchandise-ranging from books and toys to furniture and antiques-is donated. Items may be donated during regular business hours.
The shop is located at 530 S. Sixth St. in Sunnyside. Store hours are 10 a.m. to 5 p.m. on weekdays, and 10 a.m. to 3 p.m. on Saturdays.
"Giving your time, money and items to the store, along with your prayers, has helped to make our thrift shop the success it is today," said Groeneweg. "We ask for continued support in the years ahead as we look forward to many more successful years of service."
&nbsp