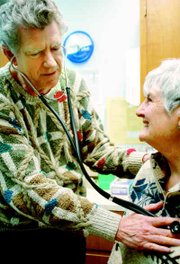 March 16 will mark the end of an era for Sunnyside medicine as Dr. John Allen will retire on that date after 30 years as a family physician.
Allen has been with the Lincoln Avenue Family Medicine Clinic for the past 15 years, after 15 years practicing in Florida.
Allen said he made the cross-continent move after attending a class reunion in Yakima.
"I just really like it here," he says.
The timing of his visit proved fortuitous as the Sunnyside clinic happened to have an opening at the time for a physician.
Allen has been here ever since and, though he will travel during his retirement years, he plans to stay here in the Lower Valley.
A mid-career move wasn't anything new for Allen, who came into the medical field relatively late in life, though he notes, "I planned on going into medicine while in high school."
After a working life that included stints as an Army medic and a computer programmer, Allen began medical school at the age of 32 and graduated at 36.
Allen, who will be 66 in just a few months, said he decided to pursue the medical profession during a hospital stay after he injured a toe with a lawnmower.
In the 30 years since, Allen says he has seen the medical community make great strides in technology. "It's making surgery more economical and comfortable for patients," he said. "There are shorter hospital stays because of technology."
He also praised the advances in hospitals working directly with physicians, as is the case in Sunnyside.
Allen said he will miss his patients at the clinic after he retires, some of whom he has seen their entire lives.
"That's going to be the hardest part," he says. "Not being able to take care of my patients I've been seeing for 15 years."
Though he will slow down in retirement, Allen will still stay active in some areas of the medical profession. He will remain the medical director for Lower Valley Hospice and continue to see 70 nursing home patients.
As to why he's retiring, Allen has three reasons.
"I'm of retirement age," he smiled. In addition, he's also looking forward to having more time with his life partner Maureen and 14-year-old son Nigel. Some of their immediate plans together include taking a trip this summer to Maureen's native England.
"Nigel and I are excited to have him home more," Maureen said with a big smile. She said on a typical day they may only have Allen at home for two or three hours. Even then, she says, his responsibilities as a doctor continue when he receives phone calls for those in need of care.
Some of Allen's other retirement plans include a trip this spring to see extended family he has in Florida.
As noted earlier, they will still call Sunnyside home, using it more as a home base for their travels. Maureen said she appreciates the Lower Valley's equal proximity to Seattle, Spokane and Portland.
Allen and Maureen plan to continue taking in theatrical performances both in Seattle and at Yakima's Capitol Theatre.
So, Allen may be retiring from full-time medical practice, but he and his family are not retiring from life here in Sunnyside and the Lower Valley.
Noted Maureen, "It has a physical beauty."