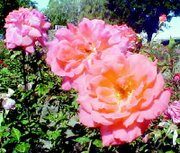 GRANDVIEW - The Grandview Rose Garden is in serious need of help from the community.
Some of the beds have been neglected as volunteers and organizations have dwindled in the efforts of caring for these precious flowers.
The rose garden was established in 1940 by the Garden Club members. It has become part of the city's heritage as a destination spot and it contains memorial plaques.
The Grandview Public Works Department recently took over the responsibility of keeping this treasure alive in the City of Grandview.
The city crew provides food and water to the rose garden. But, there is a need for volunteers and organizations to help with clean-up and pruning.
According to public works officials, there will be a clean-up kickoff this Friday, Feb. 9, at 12:30 p.m. in the garden. Some pruning and general clean-up will take place.
Those interested in sponsoring a bed can call the Grandview Public Works Department at 882-9211.
The roses in the Grandview Rose Garden need the help of the community in order to survive.
&nbsp