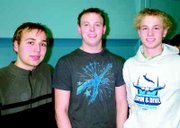 ELLENSBURG - The Sunnyside High School swim team had three swimmers at District competition at Central Washington University last Friday and Saturday. Alex Henry placed fifth at the competition in the 100-yard breaststroke for the Grizzlies.
His best event, Henry's goal was to finish in less than 1:10.00. "We kept talking about it and we both just wanted to see him get a 1:09.99," said Sunnyside High School swim coach Carl Scott.
According to Scott, Friday was a great race and Henry made his goal, finishing with a time of 1:09.21. "I was very excited to see him do this well," stated Scott. "I was just hoping that he would be able to record a similar time in the finals."
Henry entered the finals in eighth place. "This ended up being the best race of Alexander's life," Scott noted.
Scott said Henry swam very hard and really held his stroke together by taking another two seconds off his lifetime best with a time of 1:07.55. This placed Henry in fifth place overall. "This was a very impressive time," commented Scott.
Scott also noted, "Last year we took someone to State with a time very close to this one, but this year there ended up being a lot more depth in this race." Though Henry didn't advance to State this year, Scott said he has high hopes for Henry next season. He feels Henry will qualify for State during his senior year.
Henry also competed in the 100-yard freestyle event. "We just wanted him to have a personal best," Scott said.
During Friday's race, Henry demolished his best time with a clocking of 56.68 in the race. "He has really been working hard this year on getting in better shape to be able to hold his freestyle race together and it really paid off," Scott exclaimed.
Saturday's time was not expected to be another best for Henry. "Each second in a 100-yard freestyle race is extremely hard to take off," explained Scott.
However, Henry ended up taking almost another second off his time, finishing with a time of 55.70. This was a personal best and gave Henry 11th place honors at District.
In addition, Alex's brother Aaron, a freshman at Sunnyside High School, competed at District.
"He has really been improving lately in his freestyle races and he was going into this meet with lifetime bests of 2:28.24 in the 200-yard freestyle and 6:18.07 in the 500-yard freestyle," according to Scott.
Henry had never competed in the longer races prior to this season.
"When we decided that these would be the races that Aaron would swim at Districts, we really started working on his pacing," said Scott.
The younger Henry started the meet on Friday by dropping 12 seconds from his personal best in the 200-yard freestyle with a time of 2:15.88. "I was very impressed with this swim and was excited that he did well enough to make the consolation finals," Scott noted.
During Saturday's consolation finals, Henry finished with a time of 2:16.28, placing 14th.
Henry's other event, the 500-yard freestyle, went well also. Friday, he finished in 6:14.57, qualifying for the finals.
"Aaron ended up doing exactly what he was supposed to do and had his best race of the season (in the finals), going 6:00.27," said Scott. This finished placed Henry 10th overall.
"Now that we know this will be his race, we can really start focusing on it," Scott commented. "I believe Aaron can drop a lot of time next season."
First-year swimmer Marco Pellizzari showed how much he has improved over the season with his 23rd place finish in the 100-yard breaststroke. "He ended up going from a lifetime best of 1:49.63 to a 1:42.45," said Scott.
"He worked very hard this year and it really ended up paying off for him," Scott noted.
Pellizzari competed in the 50-yard freestyle in addition to his breaststroke event. His 24th place finish was with a time of 38.29.
"After this year, he would like to become a scuba diving instructor," Scott said of the exchange student. He said he feels Pellizzari will be much more prepared to do exactly that with the improvements he showed during the season.
Scott also said, "I hope he decides to continue to swim competitively and I wish him all the best in his future."