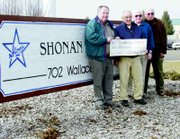 When it came down to a donation request from Sunnyside Community Hospital Foundation Development Director Bill Flower for the emergency room expansion project, it didn't take much to sway Shonan USA, Inc. CFO Doug Foth.
After giving Flower's request thoughtful consideration, Foth decided to pitch the idea to the company's owners in favor of a contribution.
Foth has spent what he describes as "way too much time in the last two years" in the emergency room.
"I've had an opportunity to view that whole situation (in the emergency room) closely. Every time I was there, I knew if you had to be in a hospital, that's where you want to be," Foth said. He added, "The staff is friendly. Those folks are all about caring."
Foth noted that his positive experiences at Sunnyside Community Hospital is a recurring theme among many of the 53 Shonan employees.
"The employees in general have spoken very highly of the hospital. You don't hear that a lot. When you do get positive feedback like that, you know it's probably been pretty extraordinary care," he said.
In his own experiences, though he was pleased with the care, he realized it was crowded.
Shonan USA, Inc. owners agreed to donate $10,000 to the foundation to help with the expansion and Foth is pleased. "It's going to add so much to the valley."
Foth said that Shonan has always been supportive of efforts to better the Yakima Valley. "But this particular (project) has to do with helping people who are disabled, ill or injured. We've all just got to reach in and help in that situation."
Hospital board member Jim Sewell said of Shonan's donation, "It's a tremendous response to our request for (the company) to make such a donation to the hospital.
"It's that type of support that helps bring this project to fruition."
According to Flower, the foundation's goal was to raise $3 million for the project and so far, they've raised $2.3 million. He knows that the last leg of fundraising might present a challenge. "We need everybody's help. Everybody needs to put their shoulder to the wheel."