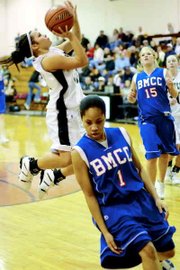 WENATCHEE - Jessica Schutt, athletic director and women's basketball coach at Wenatchee Valley College, had four years to watch Emily Hernandez play at Sunnyside Christian High School.
"I had no doubt she could come and be successful at Wenatchee Valley College," she said. "I liked her nature on the floor. She enjoys playing the game."
Hernandez, called the little sparkplug by her teammates, has helped the Wenatchee Valley College Knights to an 11-12 overall record and a 6-3 record in the East Region of the Northwest Athletic Association of Community Colleges (NWAACC), which firmly puts the Knights in third place.
Hernandez has played in 21 games this season and started in 10 of them. Schutt said she has started Hernandez in every league game the Knights have played this season.
"We rotated our starting line-up during our non-conference games to try to find the right combination," Schutt explained. "We felt we had the best team on the floor when she was starting at the point."
In 21 games this season, Hernandez is averaging 7.7 points per game and is the fourth leading scorer on the team.
"She's quick on the floor, explosive to the basket and she can shoot three's," Schutt added.
She said the point guard position is tough to play in her program. Hernandez's job is to handle the ball, beat the press and run the offense. Scoring points is secondary and Schutt said that was something Hernandez had to get used to.
"In high school she scored points but we have people here to do that," Schutt said.
She added that Hernandez should be collecting assists.
"That was a huge adjustment for her to make," she said. "She's made that adjustment and she has a great attitude."
She has 34 assists this year and her numbers are getting better. Schutt said Hernandez is still about 2 to 1 on turnovers to assists but noted that most of her turnovers came earlier in the season during the non-conference portion of the schedule.
"She's doing a great job of taking care of the ball," Schutt said.
Schutt, a 1991 graduate of Sunnyside High School, said Hernandez has been a pleasure to have on her team.
"It meant a lot to me to be able to recruit someone from my hometown," she said. "I hope there will be other opportunities to recruit more players from Sunnyside."
Schutt, Hernandez and the rest of the Knights will be in action Wednesday, Feb. 7, when they take on Columbia Basin College in Pasco at 6 p.m.