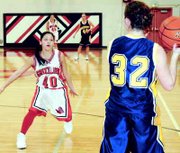 The Sunnyside girls basketball team's first win of the season was there for the taking last night, but the Lady Grizzlies couldn't finish off Southridge in a 48-43 loss.
Sunnyside, playing at home after a seven-game road trip, overcame a 13-4 first quarter deficit to trail by just one at the half, 21-20.
Things got even better for the Lady Grizzlies in the third stanza when a Vanessa Torbay three-pointer put them up 30-28 with 2:48 to play in the period.
But that would prove to be Sunnyside's last lead of the night, as Southridge went on a 13-3 tear to go up 41-33 with just under six minutes to play in the game.
The Suns' lead stayed at around five points from there into the final period of play.
Down 45-40 with 55 seconds to play, Sunnyside found new life when Shana Zamarron drove hard to the bucket for two and was fouled. She completed the three-point play and the Lady Grizzlies were suddenly back in the game, down 45-43.
Southridge further helped the Sunnyside cause by missing on two free throws. Sunnyside rebounded the second missed charity toss with 27 seconds left and seemed set to have the final shot.
That's when the first of two last-second disputed officiating calls went against Sunnyside.
After the tussle in coming away with the rebound, heads turned when an official called Sunnyside for double-dribbling, giving the ball right back to Southridge.
Sunnyside had to foul and, in what may have been a bit of acting on the Suns' part, a Southridge player went to the floor when the Lady Grizzlies were forced to foul.
The same official who made the double dribble call just seconds earlier, then whistled that the foul was intentional, sending Southridge to the line for two free throws and giving the Suns possession of the ball afterwards.
Southridge again struggled at the line, hitting just one of two attempts.
That made it a 46-43 game, and Sunnyside was still in contention until the next Sun to go to the line coolly sank both free throws with just 14 seconds to play.
Sunnyside Coach Leo Gomez was disappointed in the loss, noting immediately after the game that this was a contest Sunnyside should have won. "We gave it away," he said.
At the same time, the coach noted he will build on the tough defeat. "You have to find something positive in it, something positive to say," he said.
Zamarron led Sunnyside with 10 points, followed by Torbay and teammate Kayla Rollinger with nine points each. Kelsey Rollinger tallied six points for the Lady Grizzlies.
Sunnyside (0-10, 0-18) is home next Tuesday to play Kamiakin.