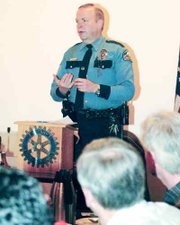 The Sunnyside Police Department is planning new measures to crack down on a growing problem in Sunnyside, gangs and graffiti.
Sunnyside Police Chief Ed Radder told the Sunnyside Daybreak Rotary Club today (Wednesday) that his department is planning on making it easier for landlords to check prospective tenants for gang activity and make parents pay if their children are involved in illegal gang activity.
Radder told the Rotarians gangs started showing up in Sunnyside in the late 80s and early 90s with two main ones, the LVLs, or Lower Valley Locos, and the BGLs, or Bell Garden Locos.
Gang activity peaked in 1995 with four juvenile homicides and then criminal activity started to drop off.
Radder said there were two reasons for the drop off in crime. The police came down hard on the gangs and every time one of them died, one or two of them went away to prison.
He said lately some are getting out of prison and are relocating to Sunnyside.
The gang members usually have red or blue bandannas on them, either folded up in their pocket or worn around their head. In school, Radder said, it's harder for them to show their colors that way so they change their shoe laces to either red or blue.
He also recognized there is a hard-core group of gang members in Sunnyside.
"What can we do?" he asked the Rotarians.
Radder said the answer is to keep prosecuting juvenile offenders in court and to promote positive activities in the community.
"Gangs will make you feel accepted," he said. "They'll make you feel like you belong. Most of the time it's because they have a lessor option at home."
He said the police department will try to work with the city council to pass ordinances stating if the police has to deal with a juvenile and the juvenile is a gang member, the parents will be billed for the police's time.
Radder was asked how such money would be collected and he said by putting a lien on the parents' title if they own their home.
He admitted they might not be able to collect from everyone but said they will still go after them.
"We have to put the onus back on the parents," he explained.
Radder also said the police department will make it easier for landlords to check on prospective tenants to see if they have gang related crimes in their background or if they are gang members.
"We all need to work together," he added.