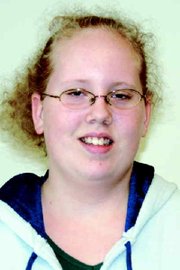 People to People International has selected Sunnyside High School student Tonnelle Driesen to attend a leadership summit at Stanford University in Palo Alto, Calif.
The summit will take place between Aug. 8 and 17, 2007. The purpose of the summit is to bring together outstanding student leaders from around the world to focus on leadership, team building, community service, college admissions and professional aspirations.
A select number of students have been invited to the summit and must meet rigorous academic and leadership requirements. "Driesen was nominated and accepted for the honor based on outstanding scholastic merit, civic involvement and leadership potential," according to People to People officials, coordinators of the summit.
She will be working on developing skills to help lead tomorrow's world, making an action plan to help the community and build a college resume. In addition, Driesen will be earning academic or service-lending credit.
Workshops, presentations, excursions and discussions will help her attain an advantage in her pursuit and fine-tuning of her selected field of interest. She will be able to benefit from a strong focus on college admissions and gain insights to guide her in her educational and professional career choices.
Driesen will have an opportunity to meet with college admissions officers and gather advice for navigating the college application process. She may have the opportunity to tour several area universities while attending the summit.
The program is coordinated by People to People Ambassador Programs to fulfill the vision of President Dwight D. Eisenhower. He envisioned fostering world citizenship when he founded People to People in 1956.