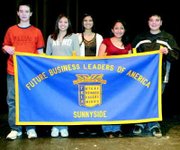 Eleven students from Sunnyside High School's Future Business Leaders of America (FBLA) club joined approximately 20 other schools in participating in the FBLA Southeast Region District Winter Conference held at the Yakima Convention Center in Yakima Jan. 31.
Each student picked three disciplines to be tested in. Of the 11 members of Sunnyside's club, five students placed in the top five on one of their tests. They were Michael Watts, who placed first in marketing; Brisa Sanchez, who placed first in creed; Katy Sanchez, who placed fifth in introduction to business communications; Eric Desmarais, who placed second in C++ programming; and Catalina Ramirez, who placed fifth in the category future business leader.
Susan Klaus, one of the advisors for the FBLA club, said the students meet twice a month, where they learn team building, leadership, business communications and learn how to get along with people. The students also had access to a competitive book that gave them ideas on what to study for the conference.
"All the classes they've taken and these guidelines helped them to succeed," Klaus explained.
Four of the students who placed had to take 100 multiple choice question tests.
"It was hard," Watts said of his marketing tests.
He said the questions dealt with marketing and became..."exceedingly difficult."
Watts said he chose the marketing test because its a prospective field he might want to get into when he gets older.
Katy Sanchez picked introduction to business communications because..."I thought it would help me with the things I'm learning in class."
She said the test wasn't too difficult, with simple punctuation, grammar and spelling making up most of her test.
"Some of the questions were on presenting your topic to a group of people," she said. "I had fun. The conference was a reflection of what I'm already learning."
Klaus said the rules are very strict at the conference and the students must dress and speak in business fashion.
"They can be disqualified for not dressing appropriately," she added.
Desmarais said the C++ programming test was very hard but he was able to use his computer application skills to do well on the test and place second.
Ramirez was tested on being a future business leader. She said she was given accounting and leadership questions for her test.
"I learned leadership and communication skills," she said.
Brisa Sanchez didn't take a test for her award. She had to memorize and recite the FBLA creed.
"I memorized it in one afternoon," she said. "I had to recite the creed to the judges and give the correct emphasis when needed and relay accurately."
She added she had to make the right pauses when reciting the creed, keep good eye contact with the judges and smile. She also had to control her voice modulation, speaking in a tone that's not too soft or too loud.
Out of 100 points possible she scored a 95.
"I really had a good time," she said. "I learned to have a little more confidence in myself, that I could do it."
These five students are now eligible to attend the State conference coming this April in Spokane.
"This is just a terrific group," Klaus said. "I feel very fortunate to be their advisor. We have a lot of exceptional future business leaders in our group. That includes all the kids who went and the ones who couldn't make it to the conference."
Ramirez summed up the group's feelings with one statement.
"Oh my God, we're going to State."