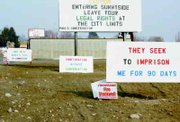 Prosser contractor Tom Paul and the city of Sunnyside are headed to court on March 8.
Only this time it's not in Superior Court-where the two are waging a boundary dispute-but in Sunnyside Municipal Court for a sign code violation charge.
Paul's appearance in the Sunnyside court stems from several signs he has posted on his property along South First Street.
Sunnyside City Manager Bob Stockwell said Paul was cited last year for violating the sign code because he surpassed the footage allowed under the city ordinance.
"Any business in Sunnyside is limited to a number of square footage for their signs," said Stockwell. He noted that Paul has only one business license for his property on South First and is thus limited to 100 square feet of sign space. "His signs have exceeded that many times over," Stockwell said, adding that Paul was four times over the sign code limit at the time the violation was issued.
The bulk of Paul's signs express political statements opposing Stockwell and the current Sunnyside administration. Stockwell contends, though, that the sign code citation isn't about the content of the signs but a matter of mathematics.
"It really is quite a simple issue," Stockwell said. "What square footage is he allowed and how much does he actually have?"
Paul counters that he is not in violation of the sign code, and that the message is everything.
"The sign code doesn't pertain to my signs," he said of the political language on all but one of his signs. "If you look up the definition of the word sign (in the city codes) it reads commercial communication."
Paul calls the sign code citation-which is considered a misdemeanor and carries a maximum penalty of $1,000 and 90 days in jail-a "flagrant abuse of power, blatant harassment".
At Paul's request, the March 8 court date will be heard by a jury.
"It's a criminal charge and I don't care to leave that up to a judge," he said. "Your constitutional right is to be judged by your peers."
Stockwell, though, isn't sure why a jury needs to hear a sign code violation, noting that 90 days in jail would never be meted out for a sign code infraction.
"It's a little confusing," he said. "The purpose of a jury is to ferret out facts. There's no gray area (with the sign code). Does he have more than that (100 square-foot limit) or not?" Stockwell added, "It's not a matter of guilt or innocence, it's a matter of law. Has he violated city ordinance, yes or no?