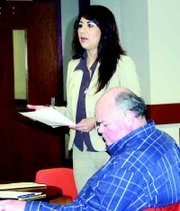 GRANDVIEW - Approximately 35 community members met in Grandview last night to identify community challenges and resources.
At the start of the meeting, City Administrator Scott Staples said, "Hopefully more community involvement will come out of this process."
A smaller core of Grandview Leadership Partners had met twice prior to last night's meeting to lay the groundwork.
That core determined that those attending last night's meeting should break off into small groups and identify community needs, issues and resources, then share with the crowd at the end of the meeting. The purpose of the small groups was to ensure that the core group hadn't left any needs or issues overlooked.
"Please talk to people you don't know," encouraged Staples. "We want to get as much diversity in opinion as possible."
Participants in the break-out groups identified the following issues: vandalism, graffiti, gang activity, lack of employment opportunities, availability of alcohol and drugs to teens, lack of responsibility for youth, poverty, teen pregnancy, lack of involvement from spiritual community and lack of strict code enforcement.
The following needs were identified: elevate community pride, break down cultural barriers, revitalize downtown, attract new businesses, create more youth activities and increase parent involvement.
Many suggestions were made as to how to overcome Grandview obstacles and two suggestions were made over and over by the breakout groups. The first was that the Frenzy Friday program now taking place at the middle school be expanded to all grade levels in the district. The program serves as a healthy outlet for middle schoolers when school has early dismissal on Fridays.
The other suggestion was for Grandview to host a Big Brother/Big Sister program.
Other suggestions included inviting outside agencies in to the schools to expand sexual health education and awareness, create opportunities for kids to establish relationships with community leaders, finding a healthy outlet for graffiti by creating a place that it's OK to spray-paint, getting creative in attracting kids to after school activities, surveying students to see what they want after school, using downtown facilities for after school events and updating city parks and basketball courts.
Following that discussion, the group than identified resources to help address the issues. Several agencies and civic organizations were identified, and the group was encouraged to find people serving in those capacities to invite to the next meeting.
Staples also encouraged individuals in the group to invite and bring two people to the next meeting.
Staples said the next step will be matching resources to issues.
The group also discussed changing the name from Grandview Leadership Partners to something more amenable to people who don't feel like leaders. Grandview United was one suggestion.
The group will meet again on March 15 at 7 p.m. at the high school cafeteria.