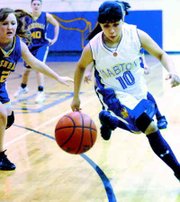 MABTON - Granted, the Mabton High School girls basketball team didn't qualify for this year's District tournament. But considering the Lady Vikings this season jumped from the Greater Columbia B League to the extremely tough class A SCAC West Division, all in all Mabton put together a pretty solid year.
Last night, Mabton closed out its 2006-07 campaign with a 52-45 win over the visiting Goldendale Timberwolves. The victory snapped a five-game losing streak for the Lady Vikes, and brought Mabton's league record to 5-9. Overall, Mabton finished up the season at 9-12.
"I see a bright future for our kids," said Mabton Coach Mike Roettger.
"We missed the playoffs by just one game...not bad for our first year in the 1A ranks.
"We lose just three kids off the team, only one of them a starter, and we have a good eighth grade class coming up.
"The foundation of our program is built on discipline and hard work," Roettger continued. "We'll continue pounding away on that in the off-season.
"Closing out the season last night with a win was important. We'll take that positive into the off-season and build on it," he said.
The victory over Goldendale looked in doubt early on last night, as the Timberwolves bolted to a 20-14 halftime lead.
"We had no flow in the first half," said Roettger.
Goldendale continued to pound away at the Lady Vikes after intermission, increasing its lead by as much as 10 early on in the third quarter.
The full-court press Roettger instructed his girls to apply after the halftime break started paying dividends, however, and late in the third period his Lady Vikes began creating turnover after turnover.
"At that point we went on a 12-0 run," he said. "During that stretch Goldendale couldn't get the ball past the half-court line."
Heading into the fourth quarter Mabton still found itself down by six, but the Timberwolves eventually wilted under the full-court pressure defense the Lady Vikings applied.
"We ended up creating 18 turnovers in the second half," said Roettger, noting his club outscored Goldendale by a 22-9 margin in the final period.
The beneficiaries of that hard-core defensive pressure down the stretch proved to be Teresa Flores and Ana Jimenez, who knocked down 8 and 7 points, respectively, for Mabton in the final quarter of play.
The duo finished the night as Mabton's top scorers, with Jimenez canning a game high 22 points and Flores finishing with 11.
Goldendale had three players score in double figures-Kylee Bellamy with a team high 14 points, and Monica DeRushe and Kayla Graaf with 11 apiece.
Mabton's point guard, 5'5" sophomore Kayla Campbell, contributed above and beyond expectations by popping in four points and grabbing a team high nine rebounds.
Goldendale 8 12 16 9 -45
Mabton 8 6 16 22 -52
3-pt.-Goldendale 2/10, Mabton 4/7 (Flores 2, Jimenez 2). FT-Goldendale 3/11, Mabton 6/11. Rbds.-Goldendale 42, Mabton 39 (Campbell 9). TO-Goldendale 32, Mabton 16.
Goldendale: Kylee Bellamy 14, Monica DeRushe 11, Kayla Graaf 11.
Mabton: Reynolds 0, Campbell 4, Flores 11, Jimenez 22, Tellez 6, T. Williams 9, Enriquez 0, Martinez 0, S. Williams 0, Sotelo 0.
&nbs