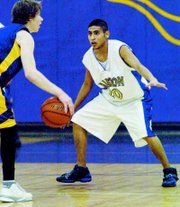 MABTON - In what turned out to be a must-win game for the Mabton High School boys basketball team, the Vikings stepped up to the plate and beat the Goldendale Timberwolves 53-47 last night to clinch the No. 3 seed in the SCAC District tournament.
"We clinched the No. 3 seed to the District tournament by finishing 8-6 and tied for third with Highland," Mabton Coach Brock Ledgerwood said. "We beat Highland twice and own the tie breaker."
Highland upset league leading Granger last night to force Mabton into a must-win situation. With the victory, the Vikings avoided the loser-out District qualification games.
"This win was huge for our playoff positioning," Ledgerwood said. "Goldendale now has to play a loser-out game tonight at Zillah, win that and then play a loser out game Saturday at Ki-Be or Royal, just to get in to Districts. Taking care of business last night has made our District lives much easier."
Ledgerwood said the game got off to a slow start. After four minutes of play the Vikings led the Timberwolves 4-2 and had missed a few easy shot opportunities. Mabton gave a tremendous defensive effort and despite the shaky offensive start, was able to take a five-point lead after one quarter.
Despite a couple of three-point shots by the Timberwolves and Mabton's leading scorer Eric Tellez sitting out the entire second quarter, the Vikings were able to stretch their lead at halftime to seven points.
"We had some guys step up when we needed them," Ledgerwood said. "Luis Quintero and Ricky Sanchez did a great job inside and Tyler Herrera stepped up his defensive presence while Eric was out with fouls."
Tellez saw limited time in the third and fourth quarters due to foul trouble but gave Mabton a 10-point lead in the third quarter when he hit a three. The Vikings were able to keep a seven- to 10-point lead throughout most of the third and into the fourth quarter.
The Timberwolves scored two three-point plays and cut the lead to five points before Mabton's Frankie Smith nailed a three under pressure from Goldendale's press with 2:30 to go that stretched Mabton's lead back up for good.
"I am extremely happy with our offensive execution especially in the second half," Ledgerwood said. "Our shot selection was excellent and was key to this team win."
The Vikings were 21-for-46 (46 percent) from the field and 2-for-6 (33 percent) from the three-point line.
Tellez finished with 12 points, five rebounds and four steals. Herrera added 10 points and four steals. He was followed by teammate Juventino Morfin's 10 points and three assists. Sanchez had seven points and seven rebounds while Quintero added four points and grabbed 10 rebounds.
Goldendale was lead by Mitch Dove with 11 points and nine rebounds and Nick Dohrman who finished with nine points.
The win sets up a meeting with the SCAC East's No. 2 seed, Connell. Mabton (8-6, 10-11) will take on the Eagles Thursday, Feb. 15, at 7 p.m. in Connell.
"It will tough playing Connell on the road next week," Ledgerwood admitted. "They have two very quick and athletic guards we must contain. I feel we match up well with them and if we battle, we will give ourselves an opportunity to win it in the fourth quarter and that is all we can ask for."
&nbsp