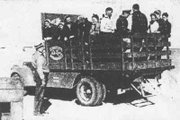 Joan McCaig Crowe was raised in Sunnyside and graduated Sunnyside High School in 1946. Her husband, Warren Crowe, is a 1944 SHS graduate. The couple left the area to attend school at Washington State University. Mr. Crowe's father, Merlin Crowe, worked as a linotype operator at the Sunnyside Sun.
The couple live in Wenatchee. The following excerpt is a story Mrs. Crowe wrote as part of her involvement in the Wenatchee senior center and it appears in a book titled "Slices of Life, Stories from a Core of the Wenatchee Senior Writers' Club."
By Joan McCaig Crowe
The Yakima Valley was well known as an agricultural center and during my junior high days in 1942 everyone who could, worked in the fields and the orchards. I chose cutting asparagus which began in May and ended in the latter part of June.
Four fifteen a.m. What a time to get up! I remember arising sleepily, staggering out to the kitchen where my mother had a breakfast waiting for me of Quaker oats and a cup of steaming hot cocoa.
My working garb was a long sleeved blouse, some kind of light jacket, (which I tied around my waist when the temperature soared), slacks and a kerchief to cover my hair. No one wore dark glasses, suns hats or applied sunscreen. I wore ankle socks and cheap Keds.
After hurriedly brushing my teeth and running a comb through my hair, I waited on the darkened front porch (on Grant Road at the edge of City Park) for my good friend, Ann Stouffer, who lived up the hill. We carried our 12" sharp asparagus knives and walked briskly downtown to the post office where the truck was waiting. Seat belts? No such thing! We were crammed into the bed of the old truck practically nose to nose and had to stand up all the way out of town to the fields. It was a lark for all of us. We talked and laughed all the way. Coming home, we were quiet, tired and hungry.
Upon arriving at the SL&I (Sunnyside Land and Investment) fields, we were assigned our rows and under the watchful eyes of H. Lloyd Miller and his deputies, we began cutting. We had to make certain that we had a clean cut and the asparagus had to be an exact height and age. Woe to the cutter who had some short, fat ones or seedy pieces in their piles. When my left hand was full I placed the asparagus on the ground in a neat stack. A man and his helper in a donkey cart came along behind us and picked up the piles. Horseplay, laughter, and talking were accomplished with vigor along with trying to make decisions about the exact piece of "grass" to cut. Ann was so funny and she would always make us laugh as we fooled around. We were reprimanded many times, but H. Lloyd didn't have much choice, and I don't remember that he fired anyone.
We cut until 8 a.m., clamored in the truck and were deposited at the local post office. Ann and I practically ran home, as we had to bathe, dress, pack a lunch and be at school by 9:30. I bet our mothers packed our lunches. At times, when we were running late, my dad (Pete McCaig), would take us to school. Most of the time, we rode our bikes. I was the proud owner of a blue and white full-sized Schwinn.
The bonus in this undertaking was that when there was a particularly large crop, cutters were needed on the weekends. Ann and I would volunteer, cut for eight hours, and get time and half and sometimes double time. Wow--30 cents an hour!
Since my parents gave me spending money, they decided all my paychecks should go into U.S. Savings Bonds. I was fortunate, as others had to use their money to buy clothes and incidentals like ice cream.
Twelve years later when I was newly married and living in San Francisco, those savings bonds were a godsend. I still remember the forest green cloth coat I was wearing and being very nervous walking in the big bank in the "city" to cash the bonds. My parents had thought of my future. They guessed someday I might desperately need extra money.
I cut asparagus for three years. We were a tight bunch of good friends and hard workers. In this day and age, would a group of teenagers be trusted to carry those knives in a crowded truck?
Daily Sun News file photo
This 1942 photo is of the asparagus field work crew of students from Sunnyside Junior High and includes Joan McCaig, Ann Stouffer, Mary Horton, Nadine Murray, Virginia Duncan, John Amundson, Dick Horton, Guy Matney and Peggy Ledingham. Standing on the ground is H. Lloyd Miller, who grew asparagus in the Sunnyside area in 1942.