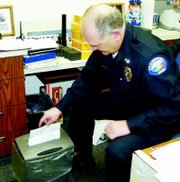 The Federal Trade Commission has declared Feb. 4-10 National Consumer Protection Week and police in Sunnyside and Grandview have tips as to how you can avoid being a victim of fraud.
According to Sunnyside Deputy Police Chief Phil Schenck, identity theft is a rampant problem, but there are preventable steps one can take to avoid being victimized.
"The most important thing people can do is get ahold of their lending agencies and tell them not to send unsolicited credit card applications," says Schenck. "If they do send them, shred them or rip them up right away."
Thieves often rummage through garbage cans and mailboxes looking for that type of information, he said. When they come across that type of information, they just scratch out the real person's address and add their own, he added.
In Schenck's opinion, social security numbers are no more important than driver license numbers or an individual's birthdate. He says that when an ill intentioned person is trying to steal your identity, even bits and pieces of information can help that person do it.
Grandview Assistant Police Chief Mark Ware agrees. "It's way too easy to get personal information these days. If someone just gets bits and pieces (i.e. birthdate, social security numbers or any kind of account number) they will use that information to order their own credit cards and it ends up being attached to your credit account by virtue of the stolen information," Ware said. He said crooks are mining the mail for personal information they can use to create false identities.
Schenck also noted that criminals have other ways to select their victims. "The day after Christmas, drive around and look at how many boxes are outside for new (television sets), new stereos and new VCR's. The bad guys know which houses are going to have the good, brand new stuff," he said.
He added that it's conceivable for a burglary victim to have it happen again within a couple of months. "They know a month later you're going to have brand new stuff (to replace what was stolen)."
Again, he stressed, don't set the boxes for new appliances outside in the trash. Instead, he says, invest in a trip to the dump or recycle bin.
Simply put, he says, "People need to know what's in their garbage cans."
Schenck emphasizes that people should not pay their bills by placing them in the mailbox. "When the bad guys see the red flag is up, nine times out of 10 they know there's a check in there. All they have to do is scratch out the name of who it's written to." Schenck says either pay bills online, opt for automatic payments or drive to a safe mail-drop.
Another simple safety protection measure can be taken through an individual's financial institution, he said. When ordering a debit card or new box of checks, ask that they be delivered to the bank, not the mailbox. He said that banks are more often than not happy to oblige. "They don't want your checks to be stolen. It causes them as much trouble as it does you."
He also recommends that debit and credit card holders not sign the back of their cards and instead write, "Ask for ID." This will hopefully force the clerk to verify identity. He also strongly recommends against writing pin numbers on the back of cards. Schenck is a firm believer in credit cards that feature a photo of the card holder. But, he adds, "Not every bank is doing that."
If Schenck could have his druthers, he'd like to see every bank obtain a fingerprint on a every check that's cashed. "That right there makes it easier to prosecute (those cashing fraudulent checks). It also enables us to solve a case rather quickly."
Schenck also raised awareness about agencies claiming to represent police or fire departments that are seeking donations. If a consumer receives this type of call, Schenck recommends hanging up and calling the local police and fire departments to verify whether or not they're seeking donations.
Notices alerting a consumer that he or she have either won the lottery or a sweepstakes but must send money in order to claim the grand prize is a scam, he warned.
Another scam that some fall victim to is when a person shows up at the doorstep claiming he will do yard work, tree trimming or other maintenance work but needs to be paid up front. "Never pre-pay to have work done," Schenck said. He said to check the reputation of the person offering to do the work; don't be content with a simple knock on the door. "And estimates for work should be in writing," he added.
Both Schenck and Ware warn against email scams. Says Schenck, "If you get an email from a sender that you don't recognize, just don't open it. Delete it."
He said one reason to do so is because some are generated by a computer that's only trying to identify valid email addresses. When opening such an email, it sends the message back that it's OK to send more.
Ware cautions against an internet process called phishing, where spam email is generated to try to obtain personal information.
"(It's) getting pretty sophisticated now. Much of the spam email you get will link you to some site that, in some fashion, will try to get you to provide credit card or bank account numbers. They'll clean you out.
"Bottom line: if you receive unsolicited email from anybody who promises something for free (if you just) fill out a simple form, don't do it. Much of this activity comes from the Eastern Bloc countries, many with ties to Russian-Mafia types. It sounds weird or corny, but it has been proven in the past.
"It's big business and it's easy to make a ton of money," Ware said.
Schenck noted that crimes committed outside of this nation's boundaries are very difficult to prosecute.
Ware has an excellent suggestion for individuals interested in keeping a watchful eye over credit reports. "You can get a free personal credit check from each bureau--Transunion, Experian and Equifax--once each, per year. So, if you do a check with different bureaus every four months, you've got a whole year of free reports."
The site he recommends using for this endeavor is www.annualcreditreport.com.
Schenck said that the Sunnyside Police Department is more than happy to accomodate requests from civic organizations and groups needing guest speakers regarding crime prevention.