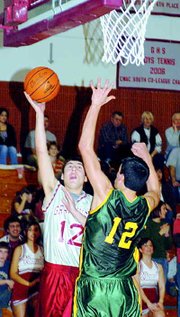 It was a tale of two games for the Grandview boys basketball team last weekend, romping at home on Friday over Quincy before losing at rival Prosser on Saturday.
The Greyhounds opened the two-game set with a comfortable win over the Jackrabbits of Quincy, opening the contest with a 21-8 run on the way to a 70-36 win.
"We shot the ball real well and played a good, man-to-man defense," Grandview Coach Scott Parrish said of the fast start.
Grandview's first four buckets of the night were all three-pointers and the Greyhounds, led by C.J. Lopez's 33 points, never looked back.
Lopez canned eight three-pointers, just two shy of the school record, and sparked Grandview to a nearly 50 percent shooting touch from behind the arc.
Grandview led Quincy by 11 points at intermission, then removed all doubt with a blistering 24-7 surge in the third quarter.
Besides the sharp-shooting Lopez, Grandview's Nick Sears and A.J. Valencia each tallied in double figures with 10 points for the Greyhounds.
Sears nearly pulled off a double-double, hauling in nine rebounds to go with five blocked shots and three steals.
As good as things were on Friday, Grandview had a hint early on Saturday that the ball would not bounce their way when Lopez went down just a few minutes into the game at Prosser with a dislocated finger. "He came back and played a little bit on Saturday, but he was favoring that finger," said Parrish. "Hopefully we'll have him back Tuesday (tomorrow) night."
With the game tied at 14-14, host Prosser set the tone in the second quarter Saturday with a 19-10 run on the way to a 67-58 win over Grandview.
"Their defensive pressure got to us," Parrish said of the Mustangs' half-court press. "They really extended us on offense and we couldn't get in the flow or run our sets. We didn't get any open looks and they did a nice job of not giving us any second chances."
After Prosser outscored Grandview 17-12 in the third stanza, it looked like the game was all but over, as the Greyhounds trailed 50-36 heading into the final quarter.
But the Greyhounds posted a surge of their own to open the fourth, using a 13-4 run to get within five points of the Mustangs in the period's first few minutes.
"I think our defense picked it up a notch and we got some easier baskets the other way," Parrish observed.
But Grandview could get no closer as Prosser held on for the upset win.
While Prosser did some things well on defense, the game may actually have turned on Grandview's free throw shooting. Or lack thereof.
Minus Lopez, the Greyhounds connected on just seven-of-24 free throw attempts.
"It was a lack of focus," said Parrish. "I don't understand how you can miss 17 free throws."
Frankie Medina sparked Grandview, including the fourth quarter rally, with 15 points, six rebounds and four assists for the contest.
Sears recorded a double-double for the Greyhounds with 14 points and 13 rebounds to go with three blocked shots.
Grandview (13-3, 16-3) is competing with Wapato for the CWAC South's top spot and hosts the Wolves Tuesday night (Feb. 13). Grandview lost to Wapato 63-51 when the two teams squared off back on Jan. 13.
"We're playing for a league title if we can win our last two games," said Parrish. After Wapato, Grandview closes out the regular season at Toppenish this Friday, Feb. 16.
The loss at Prosser snapped an eight-game win streak for Grandview. Parrish wants his players to move past that game, but take away some lessons from it.
"I told them we needed to get over it," he said. "But I hope the lack of free throw shooting bugs them. Hopefully we can have a little more focus against Wapato than we did against Prosser."