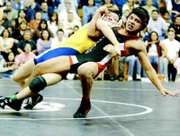 Twenty teams converged on Sunnyside last Saturday for the Region IV 3A wrestling tournament.
Hometown Sunnyside earned a fourth place finish with 110.5 points and will send five of its six Regional wrestlers to the State tournament this week in Tacoma. A sixth wrestler will go as an alternate.
East Valley of Spokane won the tournament with 180 points. They were followed by Southridge High School with 130 points and Eastmont High School with 112 points.
Sunnyside's Steven Romero (103 lbs.) won his first Regional championship by going 3-0 on the day. He first pinned Jorge Vasquez of Ingraham High School in 1:36. That set up a semi-final match with Nathan Brown of North Central High School, whom Romero beat 10-0.
That win put him in the finals against Southridge's Ely Garza. Romero got an early 4-0 lead with a takedown and a reversal before Garza was able to score two points on a reversal. In the third round Romero received a penalty point for an illegal move Garza did and then escaped twice to walk away with a 7-4 win and a Regional championship. Romero improved his record to 33-5 on the year.
His brother, Isaac Romero, ran his record to 37-0 by winning his second Regional championship.
He used two pins to set up his final match with Eastmont's Kyle Van Horn.
"Van Horn is pretty competitive," Sunnyside Coach George Paulus said. "He has a good game plan when he wrestles Isaac."
It was a tight match with Romero getting a takedown and an escape to take a 3-0 lead into the final round. Van Horn received a point for an escape but could get nothing else as Romero won 3-1.
J.T. Gonzalez also won a championship for the Grizzlies. He pinned West Seattle's Delano Jordan in 1:24 for a first round victory. He then pinned Bainbridge Island's Matthew Ritualo in 3:56, setting up a match with Southridge High School's Phillip Cowin.
Gonzalez lost to Cowin last week at sub-regionals, 10-5.
"J.T. had a heck of a day," Paulus said. "He got to avenge last week's loss."
With Gonzalez up 2-0 after one round, the two wrestlers collided when Cowin tried to slam Gonzalez to the floor. The impact bloodied the Southridge wrestler and a injury time-out had to be taken. Cowin continued to wrestle but wasn't really a factor after that. Gonzalez was able to score an escape, a takedown, a three-point near fall and was awarded a penalty point in the third round for the 10-2 win. Paulus said initial reports were that Cowin had broken his jaw.
Sunnyside's Ricardo Rivera (119 lbs.) finished third at Regionals. Last year's second place State finisher beat Eli Narte of Bainbridge Island in the first round 17-2. In the second round Rivera faced Tyler Cowin of Southridge, losing to him 15-5.
Rivera beat Cowin last week at sub-regionals.
"I didn't wrestle the same as last week," Rivera said. "He wrestled better. I guess he wanted it more."
The loss dropped Rivera into the consolation round, where he had to wrestle Matt Mehlbrech of East Valley, Spokane, pinning him in 3:13, setting up a match with Eastside Catholic's A.J. Hostak.
"We were worried about him," Paulus said of Hostak. "But Ricardo pretty much handled him the whole match. It was a good win."
Rivera beat Hostak 11-5 to take third place for the Grizzlies.
Sunnyside's Angelo Salazar (285 lbs.) placed fourth for Sunnyside, sending the senior to State for the first time.
Salazar pinned Nick Verrall of Odea in the quarterfinals in 1:22. He lost his next match to eventual champion Nick Gale of Eastmont 4-0 in the semi-finals, dropping Salazar down into the consolation rounds.
Against Darius McRaney of Chief Sealth High School, Salazar scored a pin in 3:01.
"It was a shoving match," Paulus said. "Angelo got him in a bear hug, tripped him and it was over."
The win put Salazar into the match for third and fourth place with Hanford's Ben Gastin. Gastin beat him 3-1.
"It feels pretty good," Salazar said of his first time going to State. "I worked hard in practice this year. That was the difference."
Sunnyside's Danny Alvarez didn't get an automatic berth to State but wrestled well enough to earn a spot as an alternate for the Grizzlies.
Alvarez's day started off just right when he beat No. 1 seed Peter Paskell of Bainbridge Island by pin in 4:34. Alvarez was up 11-3 at the time of the pin.
That set up a match with Southridge's Tamrich Perez, a guy Alvarez has beaten twice already this season.
Things seemed to be going Alvarez's way as he built up a 10-2 lead going into the third round. In the last 30 seconds of the match Perez was able to roll Alvarez over and get the pin, forcing Alvarez down into the consolation rounds.
He then lost to Corbin Richardson of Mt. Spokane 4-2 in the semi-finals. He did prevail in a must-win match with West Seattle's Jesse Roark, beating him 2-1 for fifth place.
"It was a tight one all the way to the end," Paulus said. "He took an alternate position and that's not a bad thing for a first year wrestler."
Sunnyside's wrestlers will begin the State tournament this Friday, Feb. 16, in Tacoma.
"It's pretty sweet," Paulus said of the Grizzlies' fourth place finish at Regionals. "It was a good tournament. The kids wrestled really tough. They stepped it up when they needed to.