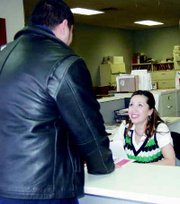 Eva Leon is not a member of a traditional financial institution. She helps people obtain financing when they have difficulties.
At American General Financial Services, Leon deals with high-risk applicants. "We are more flexible than traditional lending institutions," she said.
According to Leon, a bank won't always finance a person with collections or late payments. Whereas, part of Leon's job is to help borrowers resolve those issues.
"We try to look at previous payment history. We look further back than most lending institutions," she said. "We look at job history as far back as five years, looking for stability. We look at income and home ownership to try to help people out of financial hardships."
Leon says she enjoys the hours and the environment. She said she has co-workers who are respectful and most of all she enjoys helping borrowers when no one else will. "I like helping them keep their homes and achieve financial stability," she said.
Because Leon becomes caught up in the hardships and stories her borrowers often endure, she feels she would not make a good caseworker. "I really don't like having to call people who are behind, having a financial crisis and are unable to make their payments," she said. "The hardest calls are those who have lost a loved one and are struggling to keep afloat, financially."
She said the borrowers with very recent losses are the hardest calls to make, "They are worried about how to pay for a burial and funeral services. The last thing they are thinking about is making a payment on a loan."
Because the company offers insurance when they issue loans, calls to those with a recent injury, unemployment or loss become particularly difficult. "We offer so many options for the borrowers, and so many of them refuse these options."
She said she is particularly excited about the latest option for borrowers, "It is called a signature loan or EZ line. No collateral is needed.
"I like helping people build their credit," Leon stated. "Helping people build a history and achieve their goals is a very good thing."