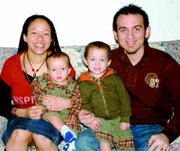 GRANDVIEW - Bethany Presbyterian Youth Pastor Nate Mazzuca, wife Crystal and sons Judah and Micah will leave this Thursday for a three-year mission trip to Swaziland in Africa.
So how do the young couple feel about the move? "It's that paradox of being really nervous, happy, excited, really scared to be leaving, challenged. Any emotion you can feel, you feel. Go get a thesaurus," laughs Crystal.
"When you absolutely know it's right, it's comforting. But that doesn't make it any easier," added Nate.
The couple first began contemplating a ministry overseas about a year ago. Nate said that both he and his wife have a real passion for ministering to young people, especially teens. "In that, we began to have a real heart for seeing (that) God's justice be done in the nations. Out of that was born a passion for Africa."
The Mazzucas began researching their options and felt that the Youth for Christ program was right for them. "That gave us the opportunity to not only do mission work in Africa, but do mission work with teens in Africa.
"They (Youth for Christ) felt like our gifts and the needs of Swaziland fit really well. It's sealed in prayer and here we are," he said with a smile.
There are three aspects to their ministry. The first is that Nate will pastor the staff at Youth for Christ. The Mazzucas are the first foreign mission team to serve in that capacity.
The couple will also help pioneer new programs in the ministry. Crystal will handle the administrative aspects.
The third aspect of their mission is to serve young people. They'll be doing presentations in classes. "The main ministry is teaching abstinence in schools," said Nate. Swaziland, a country of less than a million people that's about the size of New Jersey, has the highest AIDS rate in Africa, with 38.8 percent of the population infected.
Nate, who traveled there in October to get an apartment for the family, had the chance to experience the ministry with teens and said that Youth for Christ incorporates Swazi music and dance in to their abstinence program.
"It's a really fun presentation. I've never seen anything like it. It was amazing to watch," he said.
The brief trip in October inspired him, affirming for him that he was making the right decision. "It blew my expectations out of the water. And I saw potential," he said.
The Mazzucas, who are 26, attended Pacific Lutheran University. Prior to coming to Grandview, they served as youth pastors in the Tacoma area.
Those wishing to keep updated on the couple's progress in Swaziland can check their webpage at www.swazilandmission.blogspot.com.Lynda Jo Gross/Daily Sun News
The Mazzuca family will leave this Thursday for a mission trip in Swaziland, Africa. Nate (right) and Crystal Mazzuca (left) hold sons Micah and Judah.