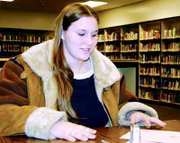 GRANDVIEW - The Grandview School Board has approved the request of a high school student to bury a time capsule.
Compass High School senior Jacklyn Folden approached the school board Monday night with a proposal, for her senior project, to create a time capsule, which would include pictures and "...other interesting facts about the City of Grandview."
She told the board Compass High School seniors would include pictures of themselves and how Grandview currently looks.
"The plan," Folden told board members, "is to bury it in the front lawn, with your approval."
When asked how it would be marked, she told them she would make a marker for the time capsule.
Folden plans to unearth the time capsule in 20 years. She said the tradition of digging up the capsule is usually done several years after the initial burial.
She also offered the opportunity to school board members for their own additions to the time capsule, saying she would take the responsibility to unearth the time capsule in 20 years. Given any unforeseen circumstances which might prevent Folden from doing so, she said she would like for the school board to have the honor of removing the capsule from the burial site and presenting it to the Class of 2007 during their 20th high school reunion.
When asked when the time capsule might be buried, Folden told board members no date has yet been determined, however she would like to bury it some time within the first two weeks of March.
The Grandview School Board members were impressed with the idea and approved Folden's proposal. "This is a very good idea," several board members noted.