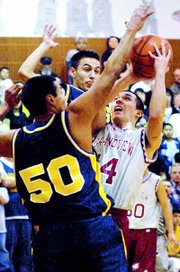 GRANDVIEW - Shaking off last Saturday's loss to the Prosser Mustangs, the Grandview Greyhounds beat league leading Wapato 64-62 in overtime last night to grab a share of first place in the CWAC with one game remaining in the season.
Grandview Coach Scott Parish was unsure what kind of tie-breaker format would be used if both teams win this Friday but said the schools' athletic directors were meeting later today to discuss that.
The Wolves jumped out to a 17-11 first quarter lead last night.
"We didn't shoot the ball very well in the first half, especially the first quarter," Parish said. "We had some good looks but they didn't fall."
The Greyhounds outscored Wapato 16-14 to cut the Wolves' lead to 31-27 at halftime.
In the third quarter Wapato stretched its lead to seven points. That's when the Greyhounds woke up.
C.J. Lopez scored 10 of his 15 points in the final stanza to help Grandview tie Wapato at the end of the game to force overtime.
With 15 seconds left in the game, Grandview had the ball out of bounds but couldn't get it in bounds because of Wapato's pressure. After a timeout Grandview tried again but pressure from the Wolves caused a turnover. Thanks to Grandview's pressure Wapato turned the ball right back over. The Greyhounds had a chance at a lay-in but the shot was contested. Grandview got the rebound back and a shot was put up but it missed as time expired and both teams prepared for overtime.
Wapato scored first but Grandview built a four-point lead before outscoring the Wolves 7-5 in the extra quarter for the win.
A.J. Valencia led the Greyhounds with 19 points and Frankie Medina added 16 points of his own. Nick Sears dropped in 12 points and grabbed nine rebounds.
"Zach Poteet did an outstanding job on defense," Parish said. "Our seniors did very well on senior night.
"This was an important win for us after losing to Prosser," he added. "The way they bounced back I was pretty happy. Hopefully we can take care of business against Toppenish. They match up with us pretty good."
The win improves Grandview's league record to 14-3 and 17-3 overall. Grandview will finish its regular season this Friday, Feb. 16, with a game at Toppenish at 7:30 p.m.