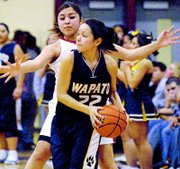 GRANDVIEW - The Grandview girls basketball team hosted the Wapato Wolves last night, losing 45-36, which stretched the Lady Greyhounds' losing streak to seven games.
Despite winning in most statistical categories, the third quarter performance is where Grandview lost the game.
The Wolves held a 9-5 lead after one quarter until the Grandview girls came back in the second quarter to trail by only one point, 22-21, at halftime.
Wapato won the third quarter 12-6, extending its lead to seven points going into the fourth quarter.
"Our shots weren't falling," Grandview Coach Tarah Troutman said. "We missed some easy lay-ins and that brought morale down. The girls need to keep the intensity up."
Grandview tried to mount a comeback in the fourth quarter but every run they produced was answered by the Wolves. Wapato outscored the Greyhounds 11-9 in the last stanza to seal the game.
Grandview was led by Kinzi Poteet with 16 points, 11 rebounds and three steals. She was followed by Raissa Licano with six points. Marissa Herrera added five points and Jessica Gonzalez dropped in four points and stole the ball three times.
The Lady 'Hounds shot 32 percent from the field compared with Wapato's 31 percent. Defensively the Greyhounds out rebounded the Wolves 23 to 22. Grandview shot 52 percent from the free throw line despite missing 10 shots from the charity stripe.
The loss drops the Greyhounds to 5-14 overall and 4-13 in the CWAC league. They face a must-win situation Friday, Feb. 16, if Grandview wants to secure a berth into the District tournament. They will play at Toppenish this Friday in the last regular game of the season.
"It was a lack of intensity on our part," Troutman said, explaining her team's loss. "We really play hard against the top teams in our league but not against the others. We don't have that killer instinct we need to be a great team."