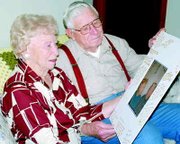 He was a loan officer, she a bank teller in 1940s Sunnyside.
Both worked at the same bank, Sunnyside's old National Bank (now U.S. Bank) and went on to share a life together.
Last week that couple, longtime Sunnyside residents Ray and Marie Johnson, marked their 60th wedding anniversary.
Revisiting their years together, the couple said it wasn't love at first sight when they met as co-workers at the bank back in 1941.
"We kind of grew on each other," Ray smiled.
Like a savings deposit, interest in each other grew over a period of three years at the bank.
"She was a nice, quiet girl," Ray said of his future bride. "He had a nice manner, he was a gentleman," Marie said of her beau to be.
After three years of working together-and growing more in love with each other-Ray knew what he had to do.
Ray answered Cupid's arrow one night after a dance.
He showed Marie an engagement ring and stated matter-of-factly, "I think it's time for this."
Marie's response?
Even now, more than 60 years later, it's still the same.
"Absolutely!" she exclaimed with a little girl giggle that belied her 80 years.
They were married Feb. 8, 1947, in St. Joseph's Church in Sunnyside.
After nine years at the bank, Marie quit to raise the couple's four children, and Ray stepped down after 10 years to help run the 410 Market along Yakima Valley Highway.
Ray, now 83, and brother-in-law Harold Caton went in together to buy the market in 1952 after Ray's father operated it for several years.
They sold the store in 1983. Ray said the business success in 30 years at the store was due to hard work, the growth of the Hanford plant and a rare, for today, convenience store selection that included produce.
Marie and Ray both weighed in on the secret to a successful marriage.
The couple said it helps that they are both Catholics and share an interest in dancing, fishing and traveling.
"We're compatible, we don't argue," said Ray.
Even when Marie catches a bigger fish than Ray.
"That's happened more than once," he chuckled.
"It's a matter of give and take," Marie added. She joked with a playful gleam in her eye, "I let him think he's right, even when he's not."
Like at the bank, interest and love for one another has grown in retirement years.
Ray and Marie have cruised south to Cabo and driven north to Alaska.
The Johnsons enjoy landscaping the yard at their Saul Road home and a bash was thrown in their honor last week to celebrate 60 years together.
They are grandparents nine times over.
"We've had a lot of good times," Ray observed.
On the heels of that 60th anniversary, the Johnsons will join lovebirds around the world in celebrating Valentine's Day today.
What are their plans?
Marie took a moment and smiled at her husband of 60 years.
Even now the interest is still there.
And it is mutual.
"I think we'll stay home," Marie said.
Ray said they may go out for a Valentine's dinner.
If they don't, Cupid's still got them covered.
Just ask Marie.
"Ray helps me cook," she smiled.