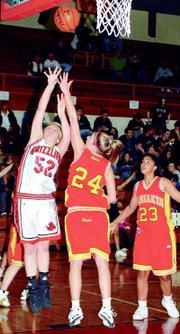 The Lady Grizzlies fell to the Kamiakin Braves at home last night, 51-41.
Despite the loss, the team has shown incredible improvement versus the first game against Kamiakin earlier in the season. In that game, the Grizzlies were down by six going into halftime and lost the game by 24 points.
Last night, Sunnyside carried a two-point lead into the second quarter and was down by three points at the half.
In the third quarter, the Lady Grizzlies lost momentum, scoring only eight points to Kamiakin's 15. Down by 10 points going into the fourth quarter, Sunnyside rallied with Shana Zamarron, Victoria Ramos and Sarasa Partida each nailing shots from beyond the 3-point arc, but it wasn't enough for a win.
"Victoria Ramos hit a couple key baskets for us down the stretch," said Coach Leo Gomez, adding that Megan Tyler and Partida were big contributors as well.
Gomez attributed the loss to his team's lack of experience. He said that only two of last night's players have previously played varsity. But he was quick to add that the young players have shown tremendous progress over the course of the season, as evidenced by the improvement in play against Kamiakin.
Mental mistakes and poor passing choices also attributed to the loss, he said.
Gomez was pleasantly surprised at the large crowd that turned out for last night's game. "I want to thank everybody who came out and supported the game."
The Lady Grizzlies (0-19) square off at home against West Valley Friday night in the last game of the season. The night is also Senior Night.
Kamiakin 8 12 15 16 51
Sunnyside 10 7 8 15 40
Sunnyside scorers: Sarasa Partida 9, Kayla Rollinger 9, Megan Tyler 8, Kelsey Rollinger 6, Shana Zamaron 5, Victoria Ramos 3.