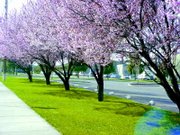 GRANDVIEW - For the 10th year Grandview has received the honor of being named a Tree City USA municipality.
According to Grandview Parks and Recreation Director Mike Carpenter, the commitment to this honor requires four standards. The standards include a tree board or commission, a tree care ordinance, a comprehensive community forestry program and an Arbor Day Observance with an Arbor Day Proclamation.
The City of Grandview Beautification Commission meets the standard of being a tree commission. The group will meet on Monday, Feb. 26, to plan this year's Arbor Day celebration. They will invite a classroom within the Grandview School District to participate in the celebration.
"The students who participate are educated on the benefits of trees," said Carpenter.
The City of Grandview has had a tree care ordinance in place for more than 15 years, according to Carpenter.
The comprehensive community forestry program, which the city of Grandview has in place, involves spending $2 per capita on the tree program, he said.
The Arbor Day celebration takes place on Arbor Day, April 27th this year. "It gives the community an opportunity to celebrate trees," Carpenter said.
He also stated that the city of Grandview mainly relies on homeowners' willingness to include trees in their landscaping to keep the city lush with trees. He said, "You really can't put a value on a mature tree."
The trees on the arterial roads, such as Wine Country Road, were planted by the Parks and Recreation Department with the guidance of information obtained on the National Arbor Day Foundation website.
Carpenter said the site can be extremely helpful in determining the proper trees to plant, the care of the trees and much more. The site even has educational links for children.
Mostly, Carpenter is just proud of the city of Grandview. "We're really excited about this being our tenth year," he concluded.