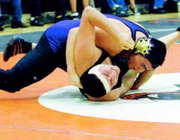 MABTON - Robert Marquez, a soft-spoken senior at Mabton High School, has a shot to do something that hasn't been done since 1978. The 215-lb. wrestler is hoping to be the first since Don Haak to bring home a State wrestling championship to Mabton.
Marquez breezed through the regular season and added District and Regional championships to his already crowded resume. Behind him on his way were his teammates, his family and the town of Mabton.
"The whole community is behind me," he said. "They want me to win."
And win is just what he has done this season. This year he is 36-0 and after a fifth place finish at State in 2005 and a third place finish in 2006, he is ready for his championship.
"If you get to State you're not bad," Marquez said, pausing to explain his expected competition at State this year. "There will be some pretty good guys there but I'm expecting a State championship."
Marquez's path to where he's at started in his seventh grade year at Mabton Jr. High when he tried out for the wrestling team. He joined the team for something to do.
"I just tried it," he said. "When you're in jr. high you try every sport you can."
He went 3-8 that year and in his words, he wasn't too good. So he started training, lifting weights and running. Those efforts paid off as Marquez went undefeated in his eighth grade year.
He says he kept up his routine in his ninth grade year and just kept getting better. He finished 25-12 that year in a very tough region of competition. In his sophomore year he finished 35-7 and got his fifth place finish at State.
"That year the top four guys at Regionals finished in the top five at State," he said.
In his junior year he finished 34-3 and added a District and Regional championship before finishing third at State.
Although Marquez couldn't have predicted the kind of year he would have as a senior, he thought he would do well. He said last year's success prepared him and a lot of wrestlers that gave him his toughest matches graduated.
"When you finish in third you expect more the next year," he added.
His approach to wrestling is almost business like.
"I just try to focus on what I need to do," he explained. "I try to understand my weak points and go from there. You find out what you can't do right and then work on that."
He credits his teammates and his coaches for his success. He wrestling partner in practice is 285-lb. Eli Perez and Marquez points to his strength. His brother, 189-lb. Damien Marquez, provides the speed he needs and he said his coach, John Kilian, has 30 years of experience he can tap into when he needs it.
"Kilian will analyze everything and then tell us what we did wrong and what to work on," he said. "I've got it all here."
He also cites his six years of wrestling experience as being helpful to him.
"When you get older you know what to do," he added. "I know things now. If you have enough experience that counts more than muscle or strength."
"It's neat, he really wrestles that way," Kilian remarked. "He leads by example and works hard. When he runs, he runs hard. When he wrestles, he wrestles hard."
Marquez pinned a remarkably high number of opponents this year but not all his matches were easy. A possible opponent at State this year is Derrik Green of Omak High School. The two wrestled at this season's Freeman Tournament, where Marquez squeaked out a 6-4 win in overtime.
Another name floating around is Brian Jones of Naches Valley High School. Jones is the only wrestler this year to put Marquez on his back. He didn't stay there long and recovered to win 11-7, but Marquez said Jones earned every one of his points.
Two more big names he might face are Izzy Torres of Nooksack Valley High School and Goldendale's Vance Schafer.
In a twist of fate that favors Marquez, all of these wrestlers are in a different bracket at State than he is. Marquez will only have to wrestle one of them if he gets to the finals.
And the finals is where he wants to be. Marquez said if he doesn't bring home a State title, despite all his success this year, he will consider the season a failure.
"With my family and the community behind me it will be hard to come up short," he said. "It's the last week I'm ever going to wrestle. There are no excuses."