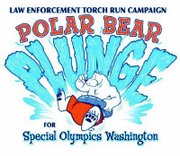 The Sunnyside Police Department this year will be participating for the first time in the Yakima County Sheriff's Office Polar Bear Plunge. Local officers are looking to the community of Sunnyside to help them raise $1,000 for the event.
The Polar Bear Plunge is a fundraiser to benefit the Torch Run Campaign for Special Olympics Washington. It will be held on Saturday, Feb. 24, at Yakima's Sarg Hubbard Park.
Law enforcement agencies in Washington state are the "Guardians of the Flame" and have put together teams for this event.
Team members take a jump into the Yakima River beginning at 11 a.m., however individuals may also enter the event. Registration begins at 10 a.m.
To enter, an individual has to raise a minimum of $50. Thus far, the Sunnyside Police Department team has raised approximately $600.
"We're very excited about this," said Sunnyside Police Department Administrative Assistant Charlotte Hinderlider.
Hinderlider has been the recruiter for the team and will also participate in the plunge.
She said last year's event netted between $5,000 and $7,000, and the Yakima Sheriff's Department raised more than $35,000 total in their fundraising efforts for the Special Olympics.
Hinderlider also noted all funds raised in Yakima County will remain in Yakima County.
Prizes are given to participants in the Polar Bear Plunge. They include prizes ranging from a hat to a special edition Plunge blanket.
Contests during the Plunge include zaniest costume, skimpiest costume, most original costume, best polar bear climate costume, best law enforcement costume, the oldest plunger and the youngest plunger.
Other events at the Polar Bear Plunge include a cheerleader tug of war, lunch and an awards ceremony.
Community members wishing to help the Sunnyside Police Department with this fundraiser can contribute to the cause by calling Hinderlider at the Sunnyside Police Department or at the sponsor website: www.firstgiving.com. The name of one of the Sunnyside Police Department's team members will need to be entered. The team members include Hinderlider, Oliver Hernandez, Luis Valdez, Ryan Austin and Vanessa Ibarra. Donations are accepted on the website via credit card or debit card.