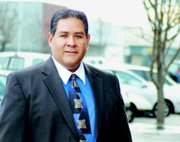 Named the Sunnyside Chamber of Commerce president last month, Jesse Hernandez Jr. is focused on improving communication with and support for new and existing businesses.
"There's room to grow," he said of his goal to see chamber membership increase by 25 percent in 2007. Hernandez explained that the chamber currently has 200 business members, while the city of Sunnyside has 600 licensed businesses.
To help recruit new members, the chamber now has formed a group called the "Chamber Ambassadors" that visit new businesses and greet them with a welcoming basket. Whether or not the new venture is a chamber member, Hernandez said the ambassadors will set up a ribbon cutting ceremony.
The ambassadors-Hernandez would like to see the group of about five people grow to 12-will also check with each business to recruit volunteers to help out with festivals and functions the chamber sponsors.
"A lot of people don't volunteer because they aren't asked," he said. "We want to make sure everyone has a chance to be included."
Hernandez, a Sunnyside resident for 23 years and a financial advisor at Waddell and Reed's downtown Sunnyside office, is also planning changes from within the chamber organization.
Rather than have most of the input come from chamber leadership, Hernandez is seeking comment from the community and the chamber's general membership.
To that end, the name of monthly chamber meetings have been changed to reflect general membership rather than a meeting of the board.
As president, Hernandez said he will continue the chamber's work in promoting tourism and a full slate of city festivals. He said one of his priorities is to upgrade the quality of vendors during Cinco de Mayo and Sunshine Days.
At the same time, though, he wants the chamber to do more to encourage and build up Sunnyside's business community.
As a result, chamber meetings will have an opportunity for one business to share a few minutes about their service or product. Guest speakers are also planned for the meetings to address business topics.
Since Sunnyside is the second largest city in Yakima County, Hernandez said he would eventually like to see the business community band together with the chamber in forming a business expo. That could possibly happen as soon as this summer or fall.
With so many businesses in the community serving gardening and agricultural needs, Hernandez hopes to see a home and garden show in Sunnyside in Spring 2008.
The Sunnyside Chamber of Commerce meets the second Thursday of each month from 12 to 1 p.m. at the community center.
For more information, call the chamber office at 837-5939.